Lady Gaga and the Glam Rock Men Who Inspire Her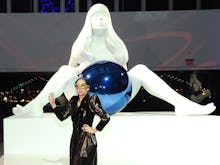 Lady Gaga is often compared to similarly talented female pop stars like Madonna. But an army of some of the most talented — and eccentric, for that matter — male performing artists in the history of popular music also have a deep influence on her work. And it doesn't just have to be male musicians. Gaga name dropped American artist and sculptor Jeffrey Koons in "Applause," the lead single from her latest album, Artpop, which she released Monday.
Some of these influences, like Elton John, are obvious. Others are only apparent upon closer examination. Regardless, to simply label Lady Gaga as a Madonna clone as many critics do isn't just lazy, it's plain wrong.
A trio of male performing artists who saw their heyday when Gaga — born Stefani Germanotta — was just a girl growing up in New York City is the most readily apparent influence on Mother Monster. In their day, these men were larger-than-life, incredibly talented, and always thought outside the box, much like Gaga does today.
Superficial similarities to Elton John abound, but it isn't just on the surface level that Gaga draws from the English pop star. Yes, both have an affinity for eccentric outfits. But when you dig a little deeper, the two stars share a lot in common on and off the stage. Both are incredible pianists — check out there collaboration at the 52nd Grammy Awards, where they played a dueling mashup of "Your Song" and "Speechless." Gaga's piano-driven ballads like "You and I" clearly draw inspiration from John. When they are not performing, the two artists are both vocal supporters of LGBT rights. John and Gaga have gotten so close that he chose her to serve as his son Elijah's godmother.
David Bowie — the king of glam rock — perhaps serves as the biggest influence on Lady Gaga's aesthetic. Long before Gaga wore eccentric costumers like her meat dress or arrived on stage in an egg, Bowie was thrilling audiences as his androgynous alter ego Ziggy Stardust. Both Bowie and Gaga are incredibly talented purely as musicians. But by drawing on an eclectic and ever-changing visual method of presentation, the two artists always kept audiences guessing. David Bowie was a pioneer of innovative performance. Without him — or Ziggy Stardust, for that matter — there would be no Lady Gaga. 
The same could be said — literally, as far as names are concerned — for Queen frontman Freddie Mercury. Gaga credits her stage name to Queen's song "Radio GaGa." Mercury brought a sense of glamour to rock and roll. Much like Bowie's androgyny, this shook up the norms of the medium. Mercury's theatricality and tongue-in-cheek, winking persona shook up rock. With Mercury and Queen, it wasn't just about the music — it was about the performance. Gaga clearly has taken a page from his book. Even listening to Artpop, songs like "Fashion!" stand out because of their campy quality. It's hard not to imagine what some of Gaga's songs would sound like if Mercury were the vocalist, as he could easily slide in to many of the tracks.
Of course, while this trinity of performers clearly exhibit the greatest and clearest influence on the Lady Gaga fans know and love (and for some, loathe) today, she has drawn inspiration from a colorful assortment of other male artists, some of whom would surprise even the most traditional of music purists.
Especially on her sophomore album, Born This Way, Gaga draws a surprising musical inspiration from the Boss himself, Bruce Springsteen. Even on tracks from Artpop like "Gypsy," Springsteen's influence is clear — guitar riffs, power ballads, sweeping narrative lyrics. The rocker's longtime saxophonist, Clarence Clemons, even appeared on two tracks on Born This Way, the single "Edge of Glory" and "Hair."
English designer Alexander McQueen contributed a great deal to Gaga's aesthetic. Gaga frequently wears pieces from the late designer — perhaps best evidenced in the music video for "Bad Romance" — and even devoted a track on Born This Way titled "Fashion Of His Love" to McQueen. Gaga has now moved on to the art world in drawing visual inspiration. The aforementioned Jeffrey Koons helped design the artwork for Artpop, and Gaga frequently collaborates with photographer Terry Richardson.
Photo courtesy Pascal Le Segretain/Getty Images.
There are countless other men who have influenced Gaga, from the Beatles to Michael Jackson to Tony Bennett. What is clear is that Gaga draws from a wide range of talented performers — not just fellow female pop stars. Yes, Madonna, Cher, and Britney Spears are all clear and very real influences on the Artpop singer. But to simply write her off as drawing only from other female pop stars is limiting; rather, she is an innovator, one who can always draw inspiration from the most unlikely of sources.