Gay Marriage in Hawaii: Why I'm Not Celebrating — Yet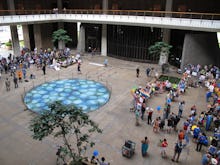 Hawaii's legislature overwhelmingly passed a bill legalizing gay marriage on Tuesday. Thirty seconds later, dozens of my Facebook friends raced to celebrate the 15th state to legalize gay marriage with a range of insipid statuses:
"Marriage Equality in Hawaii!"
In some ways, the statuses are a welcome reprieve from the wedding photos and ultrasounds of religiously observant acquaintances from high school.
Yes, we should be happy that same-sex couples are now entitled to the same benefits as heterosexual couples. A society that decides to distribute entitlements based on relationship status should extend those entitlements without discriminating on the basis of gender. Marriage equality makes life easier and more certain for these couples and their families. I want a wife and a golden retriever and an apartment with a garbage disposal. But there are issues that are more pressing to LGBT people worldwide than what an upper-middle-class person in the United States wants.Russia's recent "war on homosexuals," for example, should remind the LGBT community (and its allies) that there are issues more pressing than the contractual recognition of the one we love.  
The International Gay & Lesbian Human Rights Commission (IGLHRC) has thoughtfully partnered with organizations that combat violence, discrimination, and the criminalization of members and assumed members of the LGBT community for decades. In the U.S., gay, lesbian, and transgender teenagers are still jumping off bridges and overdosing on drugs and abusing alcohol more than their heterosexual friends and classmates. Employers can still fire workers based on gender identity and sexual orientation. These issues require any citizen motivated by the desire to support human rights to re-center their priorities.
The LGBT community and allies need to move beyond marriage equality. Why are we celebrating something that should have happened yesterday? The truth is that supporting the equal application of marriage rights no longer makes you an exceptional, enlightened person — it makes you someone who's not a reactionary bigot. Until politicians take on issues that require real courage (see: withholding foreign aid to countries that criminalize homosexuality, boycotting the Russian Olympics, enacting strict anti-bullying laws), and until progressives commit themselves to holding these politicians accountable, my Facebook status updates will contain only the most important thing that happened that day: what I ate for lunch.