Occupy Wall Street Activists Buy Americans' Debt, Then Abolish It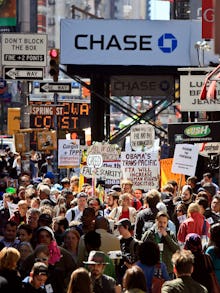 Last November, Strike Debt launched the Rolling Jubilee, a project dedicated to releasing people from debt. On Friday, it will celebrate its one-year anniversary and nearly $15 million of Americans' abolished debt so far. The project, an offshoot of Occupy Wall Street, is recognized as a big success. But what does "strike debt" mean?
The history of the debt buying industry dates back to the savings and loan crisis of the late 1980s and early 1990s. Creditors have several options to recover the debts they are owed. Traditionally, they have collected their debts themselves or used third-party debt collectors to collect on their behalf.  These days, it is more common for creditors to sell some of their debts to buyers and brokers on a secondary market for a fraction — an average of four cents on the dollar — of their actual value. Such debts would circulate between debt buyers and sellers in the debt buying market, but regardless of where they end up, the collectors aim to get the debtor to pay the full amount.
Profiting from people's debt might sound awful, but this process is completely legal. In fact, the Federal Trade Commission (FTC) noted in a report that "debt buying plays an important role in consumer credit." With 77.5% of American households in debt, and one in seven Americans being pursued by a debt collector, the Rolling Jubilee decided to take matters into their own hands and use the system for good. The Rolling Jubilee intervenes in the buying and selling debt by purchasing debt and "abolishing" it, thus keeping it out of the hands of collectors.
Freeing $14,734,569.87 of personal debt so far has cost the project only $400,000. It's impossible to abolish a specific person's debt since "anonymous accounts are bundled together and sold as a whole," and limited information is provided before purchasing debt. It is only after the purchase that the project finds out the debtors' identities and sends a letter to each individual. The Rolling Jubilee's third, and most recent, debt purchase freed $13.5 million of medical debt for 2,693 people across 45 states and Puerto Rico.
So, the big question for any millennial is: Can the Rolling Jubilee cancel crippling student loan debt as well? The quick answer is "no," since student debt is one of the most protected forms of debt by federal law and has no secondary market. Despite such limits and $15 million being a tiny fraction of the secondary debt market, the Rolling Jubilee is undoubtedly the 21st century version of Robin Hood. One can only hope that this "bailout of the 99% by the 99%" will grow and continue its good deeds for many more years to come.