One WTC Shows That Sometimes a Skyscraper Isn't Just a Skyscraper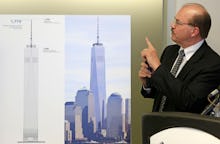 One World Trade Center has officially been certified as the tallest building in the United States, surpassing Chicago's Willis Tower, and confirming that New York City does not, in any way, have some kind of inferiority complex.
On Monday, the Council on Tall Buildings and Urban Habitat (CTBUH) — a non-profit whose professional mission is to assert that bigger is, in fact, better — announced its ruling regarding the building colloquially known as the Freedom Tower, bringing to a close a dozen years of concerns that the city's tallest and most symbolic building just wouldn't be big or phallic enough.
Source: AP
The classification comes despite the fact that One World Trade Center's ultra-patriotic height of 1,776 feet depends on one weird trick for artificial enhancement: a 408-foot spire. Ordinarily, antennas, flagpoles, and signage are not considered as part of a building's full height; they're just the tip. However, aptly named CTBUH Chair Timothy Johnson emphasized that One World Trade Center's natural-looking spire is integral to its full length, and not merely "functional-technical equipment." Johnson also described himself as "very satisfied" by the team behind the building.
Unfortunately, while One World Trade Center can stand proud and erect on the world stage, it's far from the best endowed tower out there. In honor of the CTBUH's announcement, here's a look at the 10 of the largest, and decidedly dong-like, buildings in the world.
1. Standing at over 3,280 feet, Dubai's "megatall" Burj Khalifa is the biggest dick around.
Like One World Trade Center, the Burj Khalifa was designed by Skidmore, Owings and Merrill, insecure cities' go-to source for outsize phallic buildings.
2. The Shanghai Tower is twisted for her pleasure.
"Her," in this case, is probably just the sky.
3. Saudi Arabia's Makkah Royal Clock Tower Hotel distinguishes itself by having the greatest girth.
It's also the cock with a clock.
4. Taipei 101 had the biggest shaft in the world from 2004 to 2010.
When it was surpassed by the Burj Khalifa, Taiwan's tallest building suggested that it's not the size of the boat that matters, but the motion of the ocean.
5. Shanghai World Financial Center's tan banana appears to have been pierced.
The Chinese building's construction was delayed, in part, because of controversy over its hole.
6. Hong Kong's International Commerce Centre's baloney pony was supposed to be bigger.
Zoning regulations required architects to keep the building shorter than the city's surrounding mountains.
7. The Petronas Towers' one-eyed wonder weasels doubly penetrate Kuala Lumpur's skyline.
Technically, the towers are two separate buildings, but some authorities believe you can't really take one without the other.
8. The Zifeng Tower, Nanjing's swollen trouser snake, has a scaled facade.
It should probably see a doctor about that.
9. Chicago got the Willis Tower, formerly America's biggest heat-seeking lap rocket, up in 1974.
While Chicago may be losing its title, it will always be known as a pioneer of skyscrapers in general, and tube-frame structures in particular.
10. Which brings us back to One World Trade Center's throbbing python of love.
It may have taken over a decade, but developer Larry Silverstein was finally able to winnow One World Trade Center's design into the form of a 104-story custard-shooting netherrod, decidedly proving something to New York City — and to the world.