Why Do We Love the "F" Word?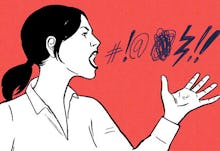 Editor's Note: This post is part of a sponsored series by Byliner.com. Byliner partners with the world's best writers to bring you their stories.
Sometimes, there is simply no way around it. You need to say it.
"F*ck."
But have you ever wondered why there is such stigma and power attached? Why we love it so much, or respond more strongly than we would to another word?
In this featured piece titled, "What the F***?" famed scientist and writer Steven Pinker explores the linguistic, literary, neurobiological, and political puzzles that surround curse words. Young people, especially, enjoy the strong emphasis and humor that swear words can provide when other words are painfully inadequate. 
That, or we're simply too young to give a damn. 
Read full story here or see excerpt below.
EXCERPT - Fucking became the subject of congressional debate in 2003, after NBC broadcast the Golden Globe Awards. Bono, lead singer of the mega-band U2, was accepting a prize on behalf of the group and in his euphoria exclaimed, "This is really, really, fucking brilliant" on the air. The Federal Communications Commission (FCC), which is charged with monitoring the nation's airwaves for indecency, decided somewhat surprisingly not to sanction the network for failing to bleep out the word. Explaining its decision, the FCC noted that its guidelines define "indecency" as "material that describes or depicts sexual or excretory organs or activities" and Bono had used fucking as "an adjective or expletive to emphasize an exclamation."
Cultural conservatives were outraged. California Representative Doug Ose tried to close the loophole in the FCC's regulations with the filthiest piece of legislation ever considered by Congress. Had it passed, the Clean Airwaves Act would have forbade from broadcast
the words "shit", "piss", "fuck", "cunt", "asshole", and the phrases "cock sucker", "mother fucker", and "ass hole", compound use (including hyphenated compounds) of such words and phrases with each other or with other words or phrases, and other grammatical forms of such words and phrases (including verb, adjective, gerund, participle, and infinitive forms).
The episode highlights one of the many paradoxes that surround swearing. When it comes to political speech, we are living in a free-speech utopia. Late-night comedians can say rude things about their nation's leaders that, in previous centuries, would have led to their tongues being cut out or worse. Yet, when it comes to certain words for copulation and excretion, we still allow the might of the government to bear down on what people can say in public. Swearing raises many other puzzles—linguistic, neurobiological, literary, political.
The first is the bone of contention in the Bono brouhaha: the syntactic classification of curse words. Ose's grammatically illiterate bill not only misspelled cocksucker, motherfucker, and asshole, and misidentified them as "phrases," it didn't even close the loophole that it had targeted. The Clean Airwaves Act assumed that fucking is a participial adjective. But this is not correct. With a true adjective like lazy, you can alternate between Drown the lazy cat and Drown the cat which is lazy. But Drown the fucking cat is certainly not interchangeable with Drown the cat which is fucking.
If the fucking in fucking brilliant is to be assigned a traditional part of speech, it would be adverb, because it modifies an adjective and only adverbs can do that, as in truly bad, very nice, and really big. Yet "adverb" is the one grammatical category that Ose forgot to include in his list! As it happens, most expletives aren't genuine adverbs, either. One study notes that, while you can say That's too fucking bad, you can't say That's too very bad. Also, as linguist Geoffrey Nunberg pointed out, while you can imagine the dialogue How brilliant was it? Very, you would never hear the dialogue How brilliant was it? Fucking.
The FCC's decision raises another mystery about swearing: the bizarre number of different ways in which we swear. There is cathartic swearing, as when we slice our thumb along with the bagel. There are imprecations, as when we offer advice to someone who has cut us off in traffic. There are vulgar terms for everyday things and activities, as when Bess Truman was asked to get the president to say fertilizer instead of manure and she replied, "You have no idea how long it took me to get him to say manure." There are figures of speech that put obscene words to other uses, such as the barnyard epithet for insincerity, the army acronym snafu, and the gynecological-flagellative term for uxorial dominance. And then there are the adjective-like expletives that salt the speech and split the words of soldiers, teenagers, and Irish rock-stars.
But perhaps the greatest mystery is why politicians, editors, and much of the public care so much. Clearly, the fear and loathing are not triggered by the concepts themselves, because the organs and activities they name have hundreds of polite synonyms. Nor are they triggered by the words' sounds, since many of them have respectable homonyms in names for animals, actions, and even people. Many people feel that profanity is self-evidently corrupting, especially to the young. This claim is made despite the fact that everyone is familiar with the words, including most children, and that no one has ever spelled out how the mere hearing of a word could corrupt one's morals.
Progressive writers have pointed to this gap to argue that linguistic taboos are absurd. A true moralist, they say, should hold that violence and inequality are "obscene," not sex and excretion. And yet, since the 1970s, many progressives have imposed linguistic taboos of their own, such as the stigma surrounding the N-word and casual allusions to sexual desire or sexual attractiveness. So even people who revile the usual bluenoses can become gravely offended by their own conception of bad language. The question is, why?
Read full story here.