'Maleficent' Movie Trailer: Angelina Jolie's New Role Looks Wonderfully Terrifying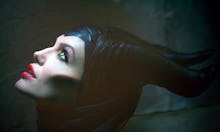 Disney has released the first trailer for its upcoming fairy tale revisionist film, Maleficent. Angelina Jolie stars as the titular evil witch who casts the fateful spell on Sleeping Beauty in the classic Disney flick. But instead of another retelling of the Sleeping Beauty tale, we'll see Maleficent's origin tale.
Disney says the live-action movie, directed by Robert Stromberg, will show how Maleficent turned from a sweet young woman to the dark side after suffering a betrayal. Seeking revenge, she tussles with the invading king's successor and curses his infant daughter, Aurora — later known as Sleeping Beauty.
This is Disney's first trailer for the film, so it doesn't offer too much insight into the film. The teaser gives us a few glimpses of Jolie in costume and some sense of the visual style. This is Stromberg's first movie as a director, but he served as production designer on Alice in Wonderland, Avatar, and Oz the Great and Powerful. He won Academy Awards for his work on those first two films. The visuals in the trailer are heavy on CGI and are similar to the hyper-real fantasy worlds depicted in Stronberg's previous work.
The focus of the trailer is on Elle Fanning, who plays Aurora, but the film will play out from Maleficent's perspective. Keeping Jolie's screen time in the teaser to a minimum brings a little more intrigue to her character and adds some mystery as to how her story might play out.
Jolie and Fanning star alongside Sharlto Copley, Sam Riley, Peter Capaldi (the new Doctor Who), and Imelda Staunton. Disney will release the film on May 30, 2014.