Jenna Jameson's Porn Comeback is to Support Her Kids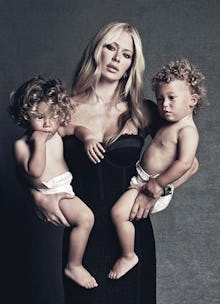 Jenna Jameson is back. The most notorious name in porn has been confirmed to be making her triumphant return to the adult entertainment industry. That's right, the Jenna Jameson. Years ago, the former XXX megastar and mother of twin boys stepped away from shooting adult films to raise her family. She swore in 2008 that she would "never, ever spread my legs again in this industry, ever."
We'll see about that. On Sunday, Jenna told Oprah Winfrey she got out of porn because of her four-year-old boys, saying, "I made a promise to my children when they were in my tummy that there is no way I would ever, ever, ever go back."
The reason Jenna forswore porn once is the same reason she is jumping right back into it. "Well, my motivation is taking care of my family, and having fun, and meeting all my fans," the former actress said recently. "Good, right?"
Yes, good Jenna, very good – you are probably going to make a ton of money and be able to take care of your family, besides the whole custody battle you are in now. You could do one full scene and it would easily make you millions of dollars. At this point Jenna is a celebrity, and people pay big money for celebrity sex tapes these days.
Back in September Luke Ford reported that Jameson was doing live webcam shows, where fans could watch her strip and crawl around, and would tip her tokens that could be transferred into cash. Jenna has also done a number of strip club appearances in the past few years. I won't provide a link because the images are definitely NSFW.
Jenna, aren't there other ways you can contribute to society that don't require you to be naked? I'm sure you could get some network to cast you in a TV show, or give you your own reality-based sitcom. Write another book; get a gig on XM radio. Hey, maybe the people over at Comedy Central would be interested in putting together a Jenna Roast! Now that would bring in some really big bucks.
But, alas, not as much as you returning to porn.