Bieber's New App is So Crazy It Might Just Work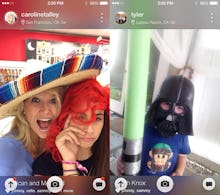 Shots of Me, which is an app funded by none other than Justin Beiber, is designed for people to use to take and post selfies.
Selfies, specifically: The app only allows you to take photos with the front-facing camera, which means no food pictures allowed (unless you are physically eating the food, in which case: go to town).
What really sets it apart, though, is that the founders are insistent that the app is meant to be a positive experience for all — a major point of concern when we're talking about people solely uploading photos of themselves. "Unlike other social networks, 'Shots of Me' does not have features that create negativity and bullying. Users also have the option of making their accounts private," they announced.
The app restricts comments, and instead only allows users to communicate with each other through "liking" photos and sending individual messages, and doesn't have all the usual traps of filters that make your blemishes fade with the selection of that "X-Pro II" filter.
Now, yes, granted — we don't really need more apps to take photos of ourselves. We do a pretty good job of that through Instagram, Snapchat, and sharing through Facebook, Twitter, and so on.
But what if this results in people feeling better about themselves?
We place so much pressure on looking a certain way: filtering each photo, taking it at the correct angle, angling our arms, trying to achieve a thigh gap. Sometimes when I'm feeling down in the dumps, and my inner monologue is how tight my pants feel that day or how huge my nose is, I take a selfie. I don't usually feel the need to post them somewhere, but they help fuel my confidence — and my inner monologue changes. Hey, girl, that photo of you looks good. That coat is fierce. Loving that nail polish color peeping through your thumbs up. Maybe you should send that photo to that cute fella you've been seeing.
This app is a way to not only allow people to take advantage of that selfie-confidence trick, but to feel more comfortable putting unfiltered versions of themselves out there with only positive feedback. Nobody can just anonymously comment "ur UGLY!!!!" or "lol u look terrible~~". Instead, your friends can only tell you how much they like that picture of you.