Pew Poll Reveals 40% of Millennials Research Their Dates on Facebook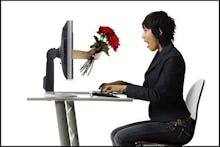 New social media polling results released by the Pew Research Center suggest that online media is playing a large role in dating and relationships. Once more, millennials are leading the way.
Especially in the early stages of potential relationships, sites like Facebook are used heavily by those looking to learn more about their new date's past, to announce the status of their relationship, and even to browse for attractive people to contact.
Here is some of the most interesting data:
- Among social media users with recent dating experience (those single and looking for a relationship, or have been in one in the last ten years), 30% have used it find out information about someone they are interested in.
- 41% of users aged 18-29 with recent dating experience have used the internet to get more background info on a potential love interest.
- 12% of users have friended or followed someone on social media because a friend suggested that person as a potential romantic partner.
- 27% of users have unfriended or blocked someone who made them feel uncomfortable online. 41% of young users have done this (33% of young women, 19% of young men).
- 15% of users with recent dating experience have asked someone out using social networking sites, but men are 8% more likely to do so (19% vs. 11%).
- 22% of users have blocked an ex, and 17% have untagged themselves from pictures with someone they used to date.
- Almost half (48%) of young users have used social media sites to check on someone they dated in the past.
Social media creeps into our lives and implants itself in American culture more and more everyday. Online dating sites have rapidly increased in popularity and acceptability. The Pew Center's Internet and American Life Project showed that one in 10 Americans use online sites like Match.com and OkCupid to find dates, while 60% find online dating an acceptable way to find love.
How does this impact us members of Gen Y? We are all over the internet, and are often the ones leading the hussle to meet people online. Millennials aren't just the demographic that inflates the above numbers (although we do); our youth and tech-savviness drive older generations to emulate our mastery of the Internet. When we started using Facebook, so did our parents. As we started to find dates through the internet, our parents followed us in search of love online. So too will generations to come. The results of the two Pew studies are not surprising, but they speak volumes for the future of technology in relationships.