New Poll Shows Democrats' Post-Shutdown Popularity Has Disappeared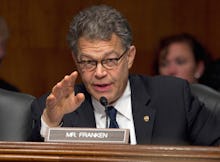 Will the Democrats or the Republicans win the 2014 midterm elections? It's a tie, according to a poll released by Quinnipiac University on Wednesday. Quinnipiac polled 2,545 registered voters by cellphone or land line and found that 39% of respondents would vote for the Republican candidate in their district and 39% would vote for their local Democrat.
This is an improvement for the Republicans. On October 1, the same Quinnipiac poll found that Democrats held a nine-point advantage (43-34) in the 2014 midterms. This advantage was probably due to the poll being conducted on the first day of the government shutdown, which most people blamed on the Republicans.
It is also very likely that the recent decrease in support for Democrats is due to the flawed rollout of the Affordable Care Act (ACA), and the fact that many people are being told they need to get a new insurance policy. Recent poll numbers, also by Quinnipiac, show that a significant majority of Americans now oppose the ACA, and President Obama's approval numbers are at an all-time low. It seems this disapproval has also transferred to the Democratic party at large.
The poll also found that Republican Chris Christie had a slight advantage (43%- 42%) over Democrat Hillary Clinton in the 2016 presidential election race. Clinton had advantages over Republicans Rand Paul, Ted Cruz, and Paul Ryan.
Given how different the midterm poll numbers were from one month to the next, and that the midterm elections are almost a year away, it seems that it is not very constructive to speculate on the election at this time. What other scandals and poor public policy outcomes will come out by then?  Will the Democrats or the Republicans do a better job avoiding major mistakes?