India's Head Of Police Says Women Should "Enjoy" Rape If They Can't Stop It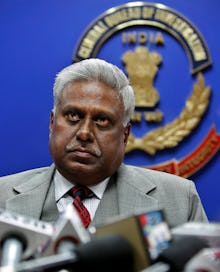 "If you can't prevent rape, you [should] enjoy it," said Ranjit Sinha, one of India's top ranked police officials, on Tuesday night. At a conference, the leader of the Central Bureau of Investigation (CBI) made the remarks when asked if sports betting should be legalized in India.
Sinha responded: "Do we have the enforcement? It is very easy to say that if you can't enforce it, it's like saying if you can't prevent rape, you [should] enjoy it."
The statement has outraged the Indian political class. "It is sickening," said Brinda Karat, leader of India's communist party, "that a man who is in charge of several rape investigations should use such an analogy. He should be prosecuted for degrading and insulting women."
Rape has been an inflammatory issue in India within the past two years. The National Crime Records Bureau (NCRB) reported that in 2011 there were 24,206 rapes reported in India. That's one rape every 20 minutes, and these figures assume that all those assaulted report each individual incident to police. Some estimates say only 40% of rape cases are reported out of victims' fear of being ostracized or seen as unclean by the community.
Last December, a 23-year-old woman died of internal injuries she suffered after being raped by six men in South Delhi. All six were sentenced to death, and one hung himself in jail. Similarly horrific incidents now receive regular coverage in Indian media.
The CBI, the organization that Sinha leads, is similar to America's FBI. They are tasked with investigating cases of government corruption, murder, rape, and terrorism. Law enforcement officials in India have been criticized for not taking reports of rape seriously. A recent study of 40 rape cases that resulted in acquittals found that Indian police failed to perform thorough investigations in more than half of the events.
When high-level officials that run important government organizations speak like Sinha did, it becomes clear why rape has been such a problem in India. The Indian government increased the penalties for rape convictions in March, making repeat offenders eligible to receive the death penalty. More is needed from leadership to combat these heinous crimes against humanity. People like Sinha must set an example and stand up for women who often cannot stand up for themselves, or they must be replaced by people who will.