Nas' New Harvard Fellowship Shows Hip Hop is For Everyone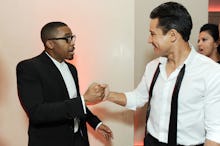 Earlier this month, Nas, the self-proclaimed rap king from Queens, made headlines when he made an appearance at Harvard University to promote a hip hop fellowship in his name.
The partnership between the Ivy League and the street-bred artist may seem unusual, but Nas believes it could not have happened at a better time. "The world is changing," he said in an interview with Rolling Stone.
"If you want to understand the youth, listen to the music. This is what's happening right underneath your nose."
Hip hop music has become so popular among millennials that it's difficult to find someone who has not heard a song by Jay-Z or Eminem. However, not everyone really gets how popular hip hop really is. For some Asian-Americans like myself, openly embracing hip hop music can sometimes lead to wild and unwarranted accusations of trying to act "black." 
Last year, while I was studying at Columbia Journalism School, one of my black friends approached me and recalled what a classmate had just told her. "She says you don't act Asian," my friend said. "You act like you're black." I looked at her in a mild daze. The classmate had managed to offend the both of us — me by wrongly accusing an Asian-American of betraying his heritage, and her by suggesting that the love for hip hop was inherently "black" behavior.
Such views are common among those who are unfamiliar with hip hop as it exists today. Many associate it solely with black culture — which makes sense given hip hop's African-American and Latino roots. In its infancy, mainstream hip hop reflected the struggles that underprivileged black and Latino youth faced during the 1980s and early '90s. Artists like Nas, Tupac, Big L, and Notorious B.I.G spoke about their gritty lives, which resonated with disenfranchised communities of African-Americans. "You could name practically any problem in the hood and there'd be a rap song for you," Jay-Z recounts in his 2010 memoir, Decoded.
But as hip hop has grown to include people of all races who have struggled over the years, the neophytic perception of hip hop has remained unchanged. Some believe that hip hop and the black identity are literally one and the same.
"I find it offensive because people are trying to place limits on an art form that was always supposed to be about the community and the people," said Lance Dixon, who covered music as a reporter at Columbia and has contributed to the blog According 2 Hip Hop. "Imagine if Rick Rubin's presence with Def Jam caused backlash. The man digs hip hop and can produce it well. Let him do it."
Asian-Americans in particular have adopted hip hop as a genre which allows them to portray lived realities beyond the "modern minority" label. A 2010 Department of Labor report reveals that, among all ethnic groups, Asian-Americans have the highest weekly earnings while blacks and Latinos have the lowest. But the numbers belie the economic difficulties that some Asian ethnic groups face. A 2012 survey by the Pew Research Center shows that socioeconomic well-being varies among the six largest Asian-American groups. Americans with Korean, Vietnamese, and Chinese heritage have higher shares in poverty than the U.S. public — conditions that hip hop historically speaks to, as some Asian-American artists have realized.
"The first thing people think of when it comes to Asian emcees is that it's almost like an oxymoron," Chinese-American rapper Gordon Tsai told Northwest Asian Weekly in a 2010 interview. "Hip hop was created out of poverty, and this whole idea that Asian-Americans are the model minorities leads to the belief that they can't possibly have struggles to talk about."
As Tsai notes, the model minority tag prevents some fans from accepting Asian-American hip hop enthusiasts who don't necessarily fit the machismo or street life that hip hop tends to evoke.
No Asian-American rapper has embodied the struggle for acceptance more than MC Jin.
In 2002, Jin became the first non-black rapper to win "Freestyle Friday," a rap battle segment on BET's 106 and Park, seven consecutive times. He later inked a deal with renowned hip hop label Ruff Ryders Entertainment. But Jin's rapping career soon tanked. He failed to find any success with his 2004 debut album The Rest Is History and eventually left New York for Hong Kong.
In a way, Jin's fall from grace in America hurt all Asian-American hip hop fans, including myself. We lost someone who could have redefined mainstream hip hop's image to include Asian-Americans.
But not all hip hop fans are affected by hip hop's racial associations. "I don't think anyone would judge an Asian-American who listens to hip hop," said Vidur Malik, an avid fan of Drake and Bone Thugs-N-Harmony. "If someone doesn't like the genre, they might be critical of [the person] listening to it, but I don't think it would be based on ethnicity."
That's not the case for high-profile Asian-Americans like Eddie Huang, a somewhat polarizing food personality who hosts the VICE show, Fresh Off the Boat.
Fans enjoy his frequent references to The Diplomats, but critics often question his authenticity. "Why does he act like an African American dude?" one Socialvoom commenter asked. "Be yourself," a YouTube user said. "Stop trying to act like something you're not."   
These attitudes about artists like Jin and Huang wrongfully suggest that Asian-American hip hop fans and artists cannot exist, and implies that black culture is defined solely by hip hop, but the truth is that hip hop transcends racial boundaries to speak to many youth who have, in some way, felt alienated — especially Asian-Americans.
"The hip hop I know and love isn't about hate or discrimination," said Kevin Wong, who regularly listens to Wu-Tang Clan and Mobb Deep. "It's about spreading love. It's the Brooklyn way."