Women's Health Protection Act Would Prevent States From Passing Targeted Abortion Restrictions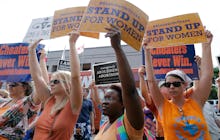 Conservative legislators are waging a war on women and their access to reproductive health services in the U.S. Restrictive laws in Texas, Ohio, and Mississippi — to name just a few — have been largely successful at preventing women from accessing the reproductive health care resources they need. A new law supported by Democrats in the House and Senate seeks to confront these anti-choice endeavors. But while it's an important piece of legislation, it's not likely to pass the Republican-controlled House of Representatives.
In the words of sponsor Sen. Richard Blumenthal (D-Conn.), the Women's Health Protection Act of 2013 "would stop states from subjecting reproductive health care providers to burdensome requirements that are not applied to medical professionals providing similar services. Laws would no longer be used to interfere with women's personal, private decision making — nor would they limit access to safe and legal medical care. Our bill will nullify dangerous regulations that stifle access to abortion care and endanger women."
Blumenthal is joined by Sen. Barbara Boxer (D-Calif.) and Sen. Tammy Baldwin (D-Wisc.) in introducing the bill to the Senate. Their colleagues in the House Rep. Marcia Fudge (D-Ohio), Rep. Judy Chu (D-Calif.), and Rep. Lois Frankel (D-Fla.) also support the bill.
Ultimately, the bill is unlikely to go anywhere. Many politicians prefer to keep the federal government out of what they consider states' affairs. Furthermore, even if the bill managed to pass through the Senate — despite being prone to a Republican-led filibuster — it would certainly fail in the House. 
Regardless, as Sabrina Siddiqui notes for HuffPost Live, this is still an important initiative. For too long Democrats in the federal legislature have lambasted the war on women without actually really doing anything about it. This bill hopefully marks the moment when Democrats meet their ideological foes in the war on women head-on and fight back legislatively. It will take time, money, and determination, but ultimately reproductive justice is worth the resources.