Healthcare.gov Was Targeted for a Cyberattack, According to One Obama Administration Official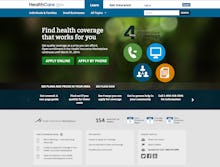 Healthcare.gov was hacked — almost. And for an issue as tense as the new healthcare plans, website safety is the line no chairman wants to cross.
Though this was unlikely to be the work of hacktivist groups like Anonymous who have a tendency to take credit for their actions, there is no trail leading to the attempted perpetrator.
The hacker, of course, is the least of Department of Homeland Security's concerns. The more pressing concerns, as stated by Rep. Michael McCaul (R-Texas), the chair of the House Committee on Homeland Security, are the invasions of privacy. Health information is among the most sensitive information on the web, not to mention that these sites now hold a collection of over 150,000 social security numbers. Each American who signed up faces a potential risk of identity theft if a hacker were to crack into the site.
This doesn't necessarily mean the program should be delayed indefinitely as McCaul may suggest. Rather, as any IT guy will tell you, no site is perfect on the first try. Especially for a project of this magnitude, a number of kinks are expected. The simple act of facing these problems now would enable the site to gradually strengthen itself and earn the confidence of users.