Internet Censorship is Reaching a Whole New Level Of Creepy in the Middle East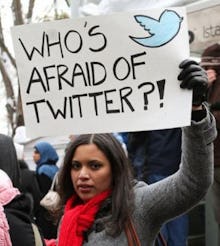 Censorship in the Middle East is constantly shifting in form. In many countries, repressive, violent state powers are being replaced with a more subtle form of state surveillance. In closed societies where censorship is the norm and information is limited, social media presents a compelling alternative for citizens who want to make their voices heard. Censorship in the Middle East continues to evolve and adapt in order to find new ways to silence dissidents. This battle for free speech marks the front lines of the struggle for a new Middle East, and the most alarming thing about it is the way some countries — most notably Iran — have started playing psychological games with dissidents.
Essentially, social media in the Middle East gives users the ability to lift the curtain of censorship that has plagued the region for so long, and find like-minded individuals whose views don't meet with government approval. The Gulf states, for example, have a thriving underground social-media scene. An online activist who speaks the truth will quickly earn a strong following and have a platform for the expression of their views, one which can not so easily be taken away by authorities.
Censorship is still a real, everyday concern for many prominent bloggers and social-media users. Rashid Saleh al-Anzi, 26, was sentenced to two years imprisonment for allegedly tweeting offensive remarks directed at emir Sheikh Sabah al-Ahmad al-Sabah of Kuwait in October 2012. Al-Anzi, who has more than 5,700 followers, is one of the many victims of censorship in a region that has been marked by tensions between modern outlets like Twitter, and repressive regimes. In Kuwait alone, one million accounts were registered in a country of 3.6 million inhabitants as of April 2012, according to Paris-based Semiocast, which compiles Twitter data.
According to the Associated Press, a Qatari poet was sentenced to life in prison, for an Arab Spring-themed poem that was deemed offensive to the country's emir. Social media activist Said Yousif al-Muhafda, from Bahrain, was arrested for covering protests using his Twitter account. Muhafda was being held for "disseminating false information regarding the clashes between the security forces.". Ironically, he later tweeted a photo of his own arrest. Al-Muhafda was later acquitted of any charges, but Bahrain has continued its policy of strict censorship.
"The authorities are placing extensive surveillance on social media, and several were arrested because of their online posts in an act that serves to intimidate others to move into self-censorship," the Gulf Center for Human Rights and the Bahrain Center for Human Rights said in a statement. This is a common cycle: Activists who are censored or imprisoned become even more popular and influential, further frustrating the authorities' goal of silencing individuals and getting them out of the public eye. Even Turkey, which has long been the darling of many who believe in the so called "modernization" of the Middle East, has resorted to targeting Twitter users, with Prime Minister Tayyip Erdogan claiming that "social media is the worst menace to society,"
Iran is an interesting example of a more subtle approach to censorship. With a tech-savvy society in which half of the population of 75 million is connected to the Internet, the regime has sought to find ways to curb internet freedom without resorting to heavy-handed tactics of censorship.
After social media was used extensively during the 2009 post-election uprising, the regime took a multifaceted approach to control of the Internet. The Iranian regime created a "cyber police" force in 2011 to confront anti-regime activities online. Other activists have reported the creation of fake Facebook profiles created to spy on the activities of users. Coupled with these tactics of surveillance is a plan outlined by the regime to present so-called "alternatives" to the internet in its current state.
The regime plans to create what it has dubbed the "halal" Internet, which it says will be free of un-Islamic content. These methods are part of a comprehensive plan by the regime to justify censorship on political and religious grounds, going so far as to claim that using Western social media outlets will empower the enemies of Iran. These tactics are a sign of a more sophisticated approach to the issue of censorship, one which leaves room for surveillance and information-gathering on potential threats.
Though Iran does have a history of violent repression of bloggers and online activists, including the murder of blogger Sattar Beheshti while in police custody, the regime's new approach to censorship demonstrates the high stakes of the struggle. The goal of the cyber police is to project their power over the individual, demonstrate their ability to monitor citizens' entire lives, and ultimately silence them. Those who refuse are silenced permanently, as Beheshti found out after he was taken into custody.
In some cases censorship tactics used by Gulf countries have served to galvanize protest movements and calls for free speech, but the strategy of surveillance employed by Iran appears much more dangerous.
While the Gulf model of censorship focuses on incarceration of the physical body, the Iranian model seeks to frame the use of social media as an ideological battle with a foreign enemy. Institutions which can force individuals to "self-censor" for fear of surveillance, or being labeled a foreign collaborator, are more effective and much more difficult to overcome. This type of censorship is hidden but ever-present, and creates a culture of fear, mistrust, and ultimately silence.
Yet these barriers can be circumvented with technical strategies and cultural shifts. Iran continues to have a vibrant online society, which has so far resisted ideological or electronic restrictions. The citizens fighting for rights in the Gulf states have also shown that they are willing to stand up for their rights, whether on the streets or on Twitter.
One thing that appears to be inevitable is the demographic shift in the region, with a new generation that is not only experiencing new freedoms using social media, but is also achieving political change through the Arab Spring.