KKK Group Attempts Recruiting New Members in a Mostly Black Florida Neighborhood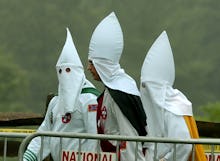 Earlier this week, the Klu Klux Klan (KKK) expanded its recruitment efforts in Florida to target African-Americans, either because the hate group is seeking greater inclusiveness, or because it's a hapless and loathsome organization that's as stubbornly ignorant as it is tone-deaf.
According to local news reports, the KKK distributed hundreds of fliers within a predominantly African-American neighborhood of the town of New Smyrna Beach. The handouts depict a hooded figure, contain the words "Our race is our nation," and cite a North Carolina group called Loyal White Knigts of the KKK, which appears to have held a cross burning as recently as August.
The fliers were packaged in plastic bags with fishing weights and tossed around the neighborhood at night, demonstrating that the craven racists were, at least, considerate enough to avoid direct contact with decent human beings. 
At least four distressed residents contacted the police in response to the reprehensible litter. Police Sergeant Eugene Griffith told the Daytona Beach News-Journal that his agency doesn't plan to address the issue, "unless the group's recruitment 'gets out of hand.'"
Robert Jones, an eloquent self-identified leader of the Loyal White Knights of the KKK, told Orlando ABC affiliate WFTV, "Well, we don't have no way of judging where we're putting the fliers at." It seems that Jones and his cowardly peers couldn't perform a simple Google search, let alone walk around the neighborhood during the day. They also appear to be unable to view the wider world from outside of the narrow slits in their hoods.
In other hatemongering news, earlier this week, Craig Cobb, a white supremacist who's trying to establish an all-white community in North Dakota, took a test that revealed that 14% of his genetic makeup is sub-Saharan African. The revelation points toward the fact that, for better or worse, Dave Chappelle's satire remains frighteningly spot-on.