George W. Bush Was Sent a Pair Of American Flag Chubbies Shorts and Absolutely Loved It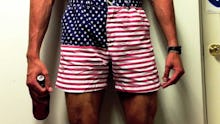 Chubbies shorts — the kind of throwback, Martha's Vineyard-looking apparel that you'd expect any guy from the University of Alabama to wear — has just gotten a special presidential endorsement.
Recently, the Chubbies team sent a pair of their 'Merica shorts — shorts designed to look like the United States flag — to former President George W. Bush.
They got this amazing letter in reply:
Completely baller, of course, because we can now assume the former two-term Republican president is running around looking like this:
The Chubbies team sent a personal letter and the 'Mericas to G.W. as a thank you for his support of veteran organizations. "In the letter we wrote to the president, we thanked him for his own efforts and contributions to veteran's causes, shared ours and thanked him for serving our country as president and Commander-in-chief," said Kit Garton, the PR and events manager at Chubbies.
The company had just finished a special veteran's week campaign, donating $5-$10 to veteran and active duty charities for every pair of shorts sold, as well as telling the stories of Service members deployed abroad. 
"The main point of us celebrating Veteran's Week (in lieu of Veteran's Day) was to dedicate an entire week to honoring & giving back to our country's heroes – like Travis Mills and the men of the 9th Infantry Regiment – who are the reason we get out of bed and come to work every morning," said co-founder Kyle Hency. "To have President George W. Bush recognize our efforts was beyond amazing and is truly a highlight of our young company's history."
'Merica shorts, have been incredibly popular with U.S. troops, and have been sent to soldiers by the company as a special gift.
"We often send shorts to veterans and soldiers and heroes as thank you's, knowing we'll never truly be able to show the depth of our gratitude, but hoping the shorts can represent even a small fraction of our thanks and appreciation," Garton said.
Lets hope we see the former president in a pair of these some time very, very soon.
Photos courtesy of Chubbies.