Wes Anderson Has a New 7-Minute YouTube Movie, and It's Amazing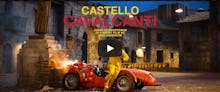 Jason Schwartzman and Wes Anderson are back, baby. 
Anderson's new short film, Castello Cavalcanti, premiered online yesterday. It's a simple story of a racecar driver who crashes his car in a small Italian town during a race. While there, he finds out that his ancestors came from Castello Cavalcanti, and meets a man whom he's seen in photographs before. He initially wants to take a bus out of the small town and get back to his friends and family, but by the end of the short, he prolongs his visit at his ancestral home.
At less than seven minutes, this little movie doesn't have enough scope to feature the full Anderson effect, but it does have several of the things for which the filmmaker is famous. Whimsical, bright colors; simple and quirky dialogue; and the combination of staging and filming that makes the whole film feel like it's been signed by Anderson himself. It also features Jason Schwartzman, a constant feature of Anderson's films, starring as the racecar driver.
The film was sponsored by Prada, but doesn't come off much like an ad. At the beginning, PRADA flashes large and colorful across the screen, and the racecar driver wears the word "Prada" on his jacket, but other than that, there isn't any name-dropping or notable product placement. Still, with the popping reds and yellows featured prominently in the film, it seems that Prada is a name that might stick with viewers (I definitely prefer this new sort of "advertisement" to any other).
Courtesy Prada.
Whether you're a hardcore Anderson fan or just looking to burn a few minutes, this film will not disappoint. Its light-hearted vignette style will transport you instantly to 1955, when the film takes place, and to a simple yet heart-warming story that will stick with you.
It definitely will help tide you over until 'The Grand Budapest Hotel' hits theaters next year: