Sarah Bray Was Barred From Seeing Her Partner in the Hospital, But She's Still Fighting For Her Rights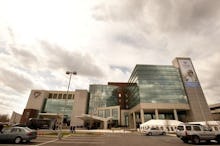 A woman in Indianapolis has been banned from the hospital room of her unconscious same-sex partner. Sarah Bray, 34, is living a nightmare. Wednesday morning, Bray's two sons found her partner unconscious on the bathroom floor after attempting suicide. Bray's partner was rushed to the Franciscan St. Francis Health-Indianapolis hospital where she remains on life-support.
She contacted her partner's mother, but when her partner's mother arrived, she demanded that Bray and her sons leave the room. After just an hour with her grievously ill fiancée, she was banned from visiting her partner.
Details remain unclear about the reasons for banning Bray from her partner's bedside. Bray believes that it is a result of discrimination.
Due to a 2010 memorandum from President Obama, no hospital that receives money from Medicaid/Medicare can discriminate against same-sex partners, even in states that don't recognize same-sex unions. If the hospital is keeping Bray away from her partner because she is a lesbian, they are violating federal law. However, if the Bray's partner's mother has a strong non-discriminatory reason to keep Bray away, the law cannot help her.
In cases where a patient has not and cannot designate a next-of-kin representative, it is up to the hospital to choose one. St. Francis is honoring the patient's mother as next-of-kin and therefore she has the right to ban someone from visiting if his or her presence could hurt the patient's health.
Unfortunately the law can only take us so far. At some point, human decency needs to take over. Don't let a woman die without her partner. It's wrong to disrespect someone's life choices when they are in a vulnerable state. This situation is already a tragedy and it is cruel for anyone to worsen it.
One can only hope that the mother and the hospital recognize the callousness of their actions in time for Bray and her sons to see her partner alive again.