White House Prevents Release Of Iraq Report While Lecturing Others About Press Freedom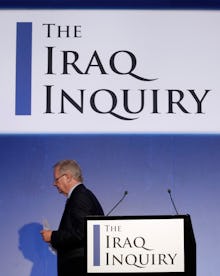 On Thursday, the U.K. Independent revealed that the United States government is the only thing blocking the results of a comprehensive four-year British investigation into the lead-up to the Iraq War.
As a reminder, the United States is a world power that's renowned for it's advocacy for civil liberties. President Barack Obama and other top-level American officials have urged world leaders in Egypt, Russia, China, and Iran to support freedom of expression and transparency in their own countries.
According to the Independent, the holdup is the result of the United States' refusal to declassify communications between former U.S. President George W. Bush and former U.K. Prime Minister Tony Blair. The paper reports that the classified materials will give credence to "already-written passages that are highly critical of the covert way in which Mr. Blair committed British troops to the U.S.-led invasion." 
In his 2013 Independence Day address, Obama described the United States as, "A global defender of peace and freedom," and, "A beacon of hope to people everywhere who cherish those ideals." 
The pending U.K. report is the result of an extended inquiry helmed by Sir John Chilcot, a former civil servant and Privy Counsellor. Chilcot was also involved in the 2004 review of weapons of mass destruction evidence that influenced the United Kingdom to contribute 45,000 troops to the Iraq War. 
Prior to taking office, Obama asserted his dedication to running an open and frank administration that would, among other things, protect whistleblowers, and provide Americans with a high degree of transparency.
According to a previous article in the Independent, the U.S. State Department is particularly concerned about the report's discussion of former Treasury Secretary Paul O'Neill, who has alleged that Bush investigated an invasion of Iraq even prior to his inauguration as president in January, 2001. 
In light of the impasse between the United States government and the investigators, which appears to be the only remaining barrier to the report's release, it remains unclear when the Iraq Inquiry's long delayed findings will finally be released to the public.