Statistics Say, As a Latina I Am An Anomaly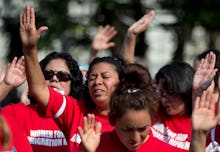 Recently, the Center for American Progress published an article discussing the state of Latinas in the United States — yet another article which emphasizes just how behind Latinas are in issues of health, economic security and education. For instance, the percentage of teen pregnancies for Latinas is at a historic low of 39%! In case you missed any of these important numbers, you can always read them on these billboards from earlier this year.
Image: NYC's Human Resources Administration Flickr
Did you know that as a Latina, I'm 100% fed up with all these statistics?
Data shows that using statistics to describe the experiences of minorities can patronize, disempower, and discourage the groups they're intended to help. Generally, statistics are used to motivate folks to change their situation, in order to create opportunities for marginalized communities, or to justify addressing larger systemic issues. For example, the disparity between Latinas and our white counterparts in higher education informs us that something needs to change for all Americans to be successful in college. Statistics help us understand what we must change.
According to these statistics, I am an anomaly.
Now, I struggle with self-sabotage and low self-esteem because subconsciously I feel I am incapable of achieving my goals, given what I know about what my future is supposed to be. I was told over and over again that I had little chance of making it. Growing up, my teachers informed me that I was supposed to become pregnant and drop out of high school because I am a Latina. As a first generation American with a working-class background and an absent father, statistics predicted I would have no success .
The same statistics that give me mixed messages about my own worth shame women of color into thinking it is wrong to be a young mother or wrong to enter the work force early. The statistics paint a picture of the "state" of Latinas, but who is this picture meant for? It certainly isn't for Latinas, especially when the teachers who have been telling us this for years are usually non-Latinos.
Rather than point out how, statistically speaking, teen pregnancies cause poverty for women of color, we should be focusing on how workplaces are particularly unsafe for pregnant women, for example. Another solution is to fund and provide social services for those who choose (or don't choose) motherhood at a young age. Feminists have been demanding child care for decades. If we want to use statistics for the good, why use them to shame communities that they could benefit?
We describe communities in terms of statistics in order to inform ourselves and others about problems the community faces in relation to rest of society. The society we live in, unfortunately, is inherently racist and sexist. The messages we send to different people about what's "normal" are rooted in obvious cultural and socio-economic differences.
Teachers, other authority figures, and now even signs in our streets warn us not to become a statistic. Statistics don't just define our world; we use them to define ourselves, to define others. How are ever we going to succeed if we know that the data says we'll fail?