Blind Man Kicked Off a US Airways Flight Because His Guide Dog Moved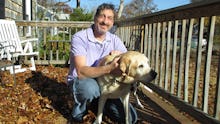 With a few exceptions (like your first flight or before a much-anticipated vacation), traveling on a plane is quite stressful. To complete so many steps only to endure more hours in an airtight cabin without much personal space isn't pleasant. I can only guess that things are more challenging for the disabled. This was the case on Wednesday, when a blind man was kicked off a plane because his guide dog was a safety hazard.
Albert Rizzi, 49, was aboard on US Airways Express with his seeing eye dog Doxy for a 130-mile flight from Philadelphia to New York. This was nothing new. Rizzi flies every month with his dog. When the flight was delayed for more than 90 minutes, however, Doxy became "agitated because of the vibrations of the plane," Rizzi reportedly said. Instead of staying under the seat, as instructed by a flight attendant, Doxy sat under Rizzi's legs. The flight attendant told Rizzi that the plane cannot leave until Doxy is under the seat because an "unruly" guide dog on-board could be dangerous.
Other passengers didn't agree. Doxy "was more controlled than the people on board" and stayed at Rizzi's feet, which seems to be perfectly okay, according to US Airways' website: "Service animals are welcome on all our flights. … as long as they fit on your lap or in front of your seat" (emphasis added). On the contrary, carry-on items "must fit under the seat in front of you" (emphasis added).
Rizzi and Doxy were escorted off the plane.
What happened then amazed Rizzi. All 35 passengers on the flight stood up for him and refused to stay on. The flight was cancelled and everyone took a bus, chartered by the airline, to Long Island. Rizzi said he is "humbled" to have "35 people who did the right thing— who got up and said no." However, this situation was a reminder for Rizzi that society still has a "tremendous number of individuals in the disabled community who might not have the stamina, the strength, the confidence to stand up for their rights and speak out against these types of ridiculous 'perceived rules.'"