3 Powerful Photos Of JFK's Final Minutes No One Has Seen Before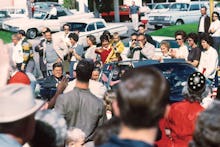 After decades of languishing in storage, these chilling color photos of John F. Kennedy just minutes before his assassination have emerged in TIME Magazine.
The photographs were taken in Dallas on November 22, 1963, by H. Warner King, a local jewelry wholesaler and amateur photographer. He passed away in 2005. His daughter, Sonia King, found them recently in a red box labeled "November/December 1963" while sorting through his possessions.
And after the assassination, the elder King photographed mourners observing the memory of the late president in Dealey Square, near where he was shot:
According to Sonia King:
My entire family was enamored of the Kennedys. Although my father's job required him to travel constantly, my dad arranged to be in town the day he heard Kennedy was coming to Dallas because he wanted to take pictures. He knew Dallas really well, and he knew where to go to get close to the motorcade. Because he was a manufacturer's rep, he had a showroom at the Dallas Trade Mart, where Kennedy was scheduled to speak.
He had it all figured out: he would take pictures of the Kennedys as they drove near Turtle Creek...and then take the back streets to the Trade Mart to photograph the president and First Lady. The cars passed him and he photographed John and Jackie. In one photo, they're smiling right at him.
But when he got near the Trade Mart, all he photographed was the motorcade racing to Parkland Hospital. He never really showed those photos to anybody, and I think he may have deliberately destroyed them — my father's carefully numbered slides were missing the sequence immediately after the photos you see above.