Obamacare Website Compared to Hurricane Katrina By Ex-Bush Official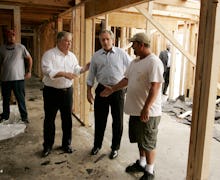 Former George W. Bush officials stirred up controversy on Friday by making a comparison between Hurricane Katrina and the bungled Affordable Care Act (ACA) rollout on MSNBC's Morning Joe in order to attack President Obama. 
No, unfortunately, you didn't misread that. 
"There are moments in a presidency where everything is different afterward and I believe this is that moment," former Bush administration Communications Director Nicolle Wallace told host Joe Scarborough on Morning Joe. "For us, it was Hurricane Katrina because while public support had been dropping for the war in Iraq, after Katrina ... many members of the public and every member of the Democratic Party viewed us as incompetent and it transcended to everything else we did," she said.
Remarkably, Scarborough barely flinched. Instead, he asked Wallace whether there is any chance Obama can reclaim lost credibility, to which Wallace (predictably) said "no." 
"You know, you can't look in a crystal ball, but I believe this is a moment after which everything will be different for the president," she said. "And if you look at the problems he's facing in the world, with Iran and other issues, he's going to miss his credibility very much."
Now, don't get me wrong: In many ways, Obama did drop the ball on the ACA rollout. He promised a much smoother transition than what actually occurred, and he has already apologized for that. But to compare the ACA to Katrina is fundamentally flawed and, indeed, insensitive.
How many people died because of the ACA rollout? And how many died because of Hurricane Katrina? 
Yeah...