Ray Kelly Playboy Interview Proves Why No One Cares What He Thinks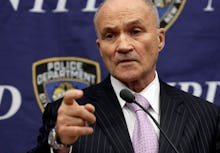 After winning the New York City mayoral race by a landslide, Democrat Bill de Blasio has been bashed by the NYPD Commissioner Raymond Kelly, who accused the mayor-elect of stabbing Kelly in the back by going against his stop-and-frisk tactics and deciding to replace him as commissioner.
Of all the publications he could have chosen, Kelly bizarrely gave an interview in December's issue of Playboy Magazine (talk about seeking male camaraderie) and accused de Blasio of being "full of shit."
He said, "[Politicians will] say or do anything to get elected. I know all these people. They all claimed to be friends of mine until their mayoral campaigns."
As someone who has been working in the NYPD for nearly 45 years and has been privy to crimes and political scandals, Kelly of course already knows that not all politicians are who they appear to be. Politicians usually have their own agendas that may or may not coincide with those of whom they associate with. This should not be a surprise to him.
Of course, he then went on to put Bloomberg on a pedestal while disregarding the fact that he, too, is a politician.
While I admire Kelly's loyalty, he needlessly wasted his breath — not to mention Playboy Magazine's ink and real estate — by giving a full-blown rant against someone who has already won the hearts of many New Yorkers.
For starters, de Blasio has already been voted into office. It's too late to change the minds of New Yorkers, if they could've been changed to begin with. After all, we're talking about a man who won 73.3% of the votes.  
Secondly, de Blasio said he wants "to change the way the NYPD has been utilizing stop-and-frisk consistent with the NYPD's ability to continue its magnificent performance over the past 23 years of dramatically reducing crime." Unless Kelly pulled a Rip Van Winkle during the race, it's unclear as to why he still continues to accuse de Blasio of wanting to nix the policy.
Really, Kelly should just admit that this interview was a ploy to promote stop and frisk, seeing as he claimed that people on 125th Street in Harlem would "stop me for my picture"  for protecting them from crimes.
Prior to doing this interview, Kelly must have known the date of the issue's release and, therefore, the interview's untimeliness. It seems that Kelly is simply trying to paint himself as the victim to garner sympathy before he is officially booted out.