Xbox One Release Date, Price, Features: What We Know So Far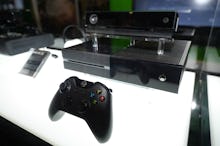 Now that the PlayStation 4 release is in the history books, all eyes in the gaming world are turning to the release of Microsoft's Xbox One. Unfortunately, unless you feel like fighting past a tank full of tiger sharks, you're going to have to wait until next Friday to get your hands on one (though some lucky gamers received their pre-ordered systems ahead of schedule due to a shipping error).
To tide you over until next week's launch, Microsoft has released some early details about its first system in eight years. In one video, the Microsoft team walks gamers through the Xbox One user experience, and the features are pretty damn impressive. From the moment you walk in the room, the system recognizes you and customizes your experience accordingly, pulling up a homescreen tailored to your interests. From then on out, you can use your voice to toggle between Xbox One's media options (and between games, TV, movies, apps, and music, there are a lot of them). Microsoft revealed Friday you can even use voice command to while browsing the internet.
So what's the catch? Well, Xbox One will set you back $499 (that's $100 more than PlayStation 4), and to use some of the most high-tech features you'll need to shell out $59.99 a year for an Xbox Live Gold subscription.
PolicyMic will be bringing you live updates from Microsoft's Xbox One launch next Friday, so be sure to CHECK BACK to get your fix of gaming news.