Millennials Are Waging An Important Battle Against Bulgaria's Khmer Rouge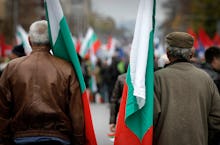 Credit: Daniel.Dimitrov
Bulgaria's anti-government protests took a violent turn earlier this week, when police forces occupying the center of the capital city, Sofia, unleashed an unprecedented round of brutal attacks on students, resulting in a number of injuries but, luckily, no fatalities. The event underscores the crisis in which Bulgaria finds itself, one of fundamental institutional legitimacy and democratic integrity, where the post-communist illusion of democracy has failed to become reality. 
Credit: Daniel.Dimitrov
Political elites must maintain some value pact with their societies, and while such a pact may not be perfect, it must never be in open conflict. When political realities change, those in power must adjust accordingly; failure to do so produces the ineptitude and isolation that the American GOP currently finds itself in, with the consequent reduced faith in institutions and the public's disillusionment with the Obama administration (e.g. about drone strikes.) Still more dangerous is the prospect that prolonging such a disconnect between public and elite can transform democracy into tyranny. 
Credit: Daniel.Dimitrov
A junta is defined as a "military or political group that rules a country after taking power by force." That is exactly how Bulgaria's unnatural coalition, comprised of Communists, neo-Nazis, and an illegal ethnic party (Movement for Rights and Freedoms), was cobbled together in the aftermath of the interim May elections and engaged in a coup d'état by Stalinist-style purges of the entire state apparatus of cadres that were not loyal to the current government. For all intents and purposes, Bulgaria's government is not democratic: it is a Communist-led junta, not unlike Cambodia's Khmer Rouge in character. 
Credit: Daniel.Dimitrov
A stark example of the illegitimacy of the Communist-led junta government is the fact that the country's main representative institution is surrounded by thousands of policemen: MPs must enter and exit the building under police escort. Even Prime Minister Plamen Oresharski has become accustomed to using rear-entrances for fear of protest flash mobs. This is not unlike the scandalous video shot at UC Davis, where a police officer pepper-sprayed peacefully protesting students as they sat on a sidewalk — and then received $38,000 for his trouble. It is an anti-utopian parallel reality in which everyone talks about democracy, but nobody practices it. 
Credit: Daniel.Dimitrov
The latest episode of police violence happened in the aftermath of a massive corruption scandal involving the Deputy Speaker of Parliament, Hristo Biserov, when a signal from an Allied intelligence agency alerted authorities of suspicious bank transfers to and from accounts in his name in offshore zones, as well as in Switzerland and the Former Yugoslav Republic of Macedonia. The inquiry is ongoing, but the charges have been brought: document forgery and money laundering in the sum of hundreds of thousands of euros. Biserov disappeared from the country for several days when the scandal broke out, but then returned and was successfully apprehended. He is currently prohibited from leaving the country. It is logical to assume that his machinations did not happen without institutional support from his party,  the anti-constitutional Movement of Rights and Freedoms (MRF), nor without the knowledge of the Communists. Hiding the traces of corruption of this magnitude was also the rationale behind appointing Delyan Peevski as head of DANS.  
Credit: Jeffrey Kaphan Photography
The Communists traditionally rely on Goebbels-inspired propaganda methods* to gain public legitimacy. It is a losing battle, because the ongoing Biserov scandal, coupled with an investigation into the leader of the European Socialist Party, Sergei Stanishev (who also is the chairman of the Communists) for conflicts of interest over contracts for his wife's PR business. The propaganda machine might also be overwhelmed by the fact that the Communists are allied with a Nazi party, destroying any and all credibility. In other words, the Communist junta has no good moves left, domestically or internationally. 
Credit: Daniel.Dimitrov
Taking down Bulgaria's Khmer Rouge will not be easy, and the collapse of the Communists will not be pleasant, as their philosophy is to hold power at any cost. Should social tensions rise any more, increased violence is not out of the question. 
Credit: Daniel.Dimitrov
However, one of the fundamental requirements for democracy is a living civil society, and the groundwork for that is being laid, thanks, in large part, to Millennials. The vicious circle in which Bulgaria has found itself for the last generation is beginning to deteriorate . The people have made their choice to participate in a democratic community of nations, but the political "elite" has refused to connect with the changing reality, to its own detriment.  
Credit: Daniel.Dimitrov
If there is one lesson to take away, for democracies in general, it is that the zeitgeist of a society changes, and those who can't keep up, crash into history — be they communists, Republicans, or any other political formation. Again, Bulgaria is the microcosm, but the lesson is universal.