Why We Can't Give Rob Gronkowski a Free Pass For Racism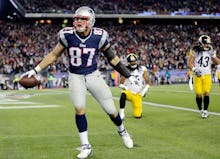 Last week, New England Patriots tight end Rob Gronkowski was videotaped mocking an Asian man who wore his jersey at a bar. "They told me he could only cook fried rice," Gronkowski told the crowd before calling the man "Leslie Chow," the Asian antagonist in the comedy franchise The Hangover.
New England Patriots Rob Gronkowski Mocks Asian Fan -- Where's the Fried Rice? - Watch More Celebrity Videos or Subscribe
The tight end's remarks made little noise. Some observers even defended his actions. "Wow. This is a controversy?" one Huffington Post reader sarcastically asked. 
"Jesus, who cares?" an ESPN.com reader wrote. "Gronk is a fun meat-head dumb guy. Guy means no harm whatsoever."
Comments like these illustrate our willingness to forgive professional athletes with troubled pasts for any and all sins, including racism. We downplay incidents involving players we love, but crucify those that have done nothing wrong, like free agent quarterback Tim Tebow or Houston Rockets point guard Jeremy Lin. As sports fans, we need to re-evaluate our perception of celebrity athletes, bring them down to a human level and hold them accountable for their actions, no matter how much we idolize them.
Why do we even pay so much attention to professional athletes in the first place?
The answer is simple. We want to be successful like them while doing something we love watching.
When I was young, I always imagined myself in Michael Jordan's shoes. He seemed to have it all. The money, the championship rings, the opportunity to play basketball almost everyday and a lead role in my favorite live action and animated film Space Jam. I lived vicariously through him every time I saw him play with Scottie Pippen and Dennis Rodman and imagined myself dunking a basketball with my tongue out.
But on the day Jordan gave his Hall of Fame induction speech, I began to realize that though my peers and many others considered him godlike, he wasn't exactly flawless. His slight undertone of arrogance turned me off. Midway through his speech, he wanted to let everybody know that he had defied their expectations and called out every single one of his critics, including former New York Knicks coach Jeff van Gundy and former Utah Jazz small forward Bryon Russell.
Jordan's advocates say his attitude made him a successful basketball player.
"We, as regular people, don't understand the mindset it takes to be an elite professional athlete," Ask Men's Matt King wrote in defense of Jordan's speech. "We can't. So what gives us the right to sit back in our recliners at home and complain about the actions of those athletes when that is what makes them watchable in the first place?"
To King and his supporters, I say we have every right.
Professional athletes are public figures and are subject to scrutiny, whether they like it or not. Sports leagues like the National Basketball Association and National Football League know their athletes are role models to millions of young fans, which is why these leagues make an active effort to protect their image. The NBA and NFL both regularly issue fines to players for bad behavior outside the court or off the field. Los Angeles Clippers forward Matt Barnes, for example, was recently fined $25,000 for using offensive language on Twitter.   
Giving a free pass to athletes simply because we like their competitiveness is an injustice to the people those athletes offend. The actions and attitudes of professional athletes off the field rarely have anything to do with their achievements on the field. Some, like suspended Miami Dolphins guard and Pro Bowl player Richie Incognito, blame their behavior on hostile yet brotherly locker-room environments instead of taking full responsibility for their actions.
Earlier this month, the NFL Players Association investigated Incognito's role in the alleged harassment of teammate Jonathan Martin that made Martin leave the team. Media reports revealed that Incognito had repeatedly called Martin racial slurs while threatening him. But Incognito vehemently denied that he had meant any ill will towards Martin.
"My actions were coming from a place of love," Incognito told Fox's Jay Glazer. "No matter how bad or vulgar it sounds, that's how we communicate, that's how our friendship was."
Incognito's teammates, like Dolphin left tackle Bryant McKinnie, and fans immediately came to his defense and placed the blame on Martin instead. "These are grown men who get paid money to literally push people around," one ESPN user said. "If Jonathan Martin can't stand up for himself then he chose the wrong profession."
This disturbing train of thought encourages victim blaming and gives the impression that anyone can get away with offending whoever they want, even when the offense is done in good fun. It also exposes our irrational sympathy for celebrated players like Incognito and Gronkowski. We welcome them with open arms because we're comfortable with the fratty behavior that exists in the sports world. Had both players pursued careers in politics, neither would have been defended as vigorously.
Professional athletes, no matter how popular they are, are human beings too. They may possess more athletic abilities than most of us, but they share our flaws. It's time we stop letting them get away with everything.