11 Things More Popular Than Obamacare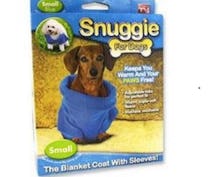 Obamacare's numbers are now public information — and they are pretty embarrassing. 
Earlier this week, the Obama Administration announced that just over 100,000 people have been able to select a health insurance plan in the exchanges — far below the administration's projections. Watching this unfold is much like watching an awkward scene in a movie through the slits in your fingers with which you have covered your eyes. 
To put things in perspective, here are 11 terrible things that have done better than Obamacare so far. 
1. Snuggies For Dogs
Inspired by the success of the Snuggie, which was purchased by millions of unashamedly lazy consumers, the company launched a Snuggie for dogs, for the dog that just wants to relax and still be able to change the channel. The company has sold a combined 35 million Snuggies of both the human and canine variety.  
2. Gigli
The movie Gigli, which dropped the F-bomb 124 times and is widely considered one of the least popular movies of all time, grossed $4 million in its opening weekend. That's a lot more than 100,000 viewers, though it's still kind of sad. 
3. Shake Weight
One of the most sexually suggestive workout tools ever (and the subject of about a thousand comedy sketches) has grown wildly popular, even if it's never really been taken seriously. Two million Shake Weights were sold in the first year it hit the market. 
4. The Ford Pinto
The subcompact car known for bursting into flames upon impact was bought more times than Obamacare in its first month of production, capping out at just over 370,000 in its first year. The car, which Ford ironically marketed as "The Little Carefree Car," stopped being produced in 1980. 
5. Paris Hilton's Debut Single
197,000 people bought Paris Hilton's debut single "Stars are Blind." There's really nothing else to add here. If you were one of those people, shame on you. 
6. The PedEgg
Forty million people have purchased this egg-shaped cheese grater that's supposed to scrape the dead skin off your feet into a "convenient storage compartment." Ew?
7. Sharknado
One million people tuned in to watch people fighting off flying sharks with chainsaws — not a lot, but if you count its Twitter mentions, it might as well have been the next Gravity. 
8. Lizard People
According to Public Policy Polling, about 12 million Americans believe that lizard people are real, and that these "shape-shifting reptilian people control our world by taking on human form and gaining political power to manipulate our societies." Take that, Obamacare. 
9. "Up Late" With Alec Baldwin
172,000 people tuned in for the debut of Alec Baldwin's late night talk show on MSNBC last month. Since then, the ratings have kept on dropping, despite all the free publicity he's getting with that stalker trial. Regardless, it's still scoring better than Obamacare. 
10. Peeing in Pools
A survey conducted by the Water Quality and Health Council indicates that one in five Americans have peed in a pool. See that picture? Try and figure out how many of them are peeing. 
11. Pajama Jeans
Pajama Jeans — "Pajamas You Live In, Jeans You Sleep In" — flew off the shelves (metaphorically, they were sold on infomercials) when they first launched, selling about 2 million pairs in under two years. You can now find them at fine retailers like CVS, where all As-Seen-On-TV products go to die.