20 Years Ago, Snoop Dogg's 'Doggystyle' Changed Hip Hop Forever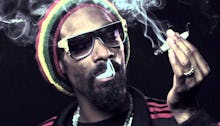 It's the 20th anniversary of Snoop Dogg's breakout album Doggystyle — the perfect time to reflect on Snoop's musical contributions and ability to seem cooler than everyone else for the last two decades. Some of his small on screen roles suggest he comes from the Christopher Walken school of never turning down an offer. We should be happy he's created so many things that can make us smile. 
1. 'Starsky and Hutch' (2004)
Courtesy Dimension Films.
Snoop shines as informant Huggy Bear in the Ben Stiller/Vince Vaughn remake of the old classic. 
Reese Feldman (Vaughn): "You know a lot about golf."
Huggy Bear: "I know even more about grass."
2. 'Playmakers' (2003)
Courtesy ESPN.
Remember the one season of ESPN original programming about the messy lives of professional football players that the NFL lobbied to have cancelled?
Snoop appeared in two episodes as the brother of main character D.H., played by Omar Gooding. 
"Yeah, I got shot- D.H. is the one doing all the shit, and he ain't got shot yet! I think I took his bullet. That's what it boils down to."
3. 'Racing Stripes' (2005)
Courtesy Alcon Entertainment.
Frankie Muniz lends his voice to a zebra who longs to be a racehorse. Snoop lends his voice to a dog named Lightning.
4. 'Malibu's Most Wanted' (2003)
Courtesy Warner Bros.
Again demonstrating his voice-acting skills, Snoop plays Ronnie Rizzat, who offers guidance to the protagonist, B-Rad of Malibu. 
"I'm about to go see my lady. She's a breeder rat at Petco."
5. 'Monk' (2007)
Courtesy USA Network.
We're reminded of the Doggystyle hit "Murder Was the Case" in this episode. Eccentric detective Adrian Monk must help Snoop's character, Murderuss, clear his name when he is falsely accused of murder. 
Snoop also did a rap version of the Monk theme song, "It's a Jungle Out There."
6. 'Old School' (2003)
Courtesy DreamWorks.
Who better to perform at Mitchapalooza and make a disturbed when he sees Will Ferrel begin to streak?
Try not to bob your head listening to him leading the crowd in a chorus of "make money money, make money money."
7. 'Training Day' (2001)
Courtesy Warner Brothers.
The most serious film Snoop Dogg has appeared in. He plays Blue, a dealer in a wheel chair, who gets pressured by rogue cop Denzel Washington.
Alonzo (Denzel): "What's that?"
Blue: "Motherfucking crack, man."
Alonzo: "That's right, Jimmy Crack Corn. 1, 2, 3, 4, 5, 6. Oh, you're federally fucked now. You got crack... and a gun. You know with your record you can get 10 years per bullet? Now you gon' gimme a name."
8. 'Half Baked' (1998)
Courtesy Robert Simonds Productions.
Snoop is the archetypal "scavenger smoker" in the Dave Chapelle/Jim Breuer flick. 
Something tells me no one would ever complain about having to share chronic with Snoop. That being said, he hasn't had to rely on the kindness of strangers for a long time.  
9. 'The L Word' (2004)
Courtesy Showtime.
Snoop plays a hip hop star named Slim Daddy in two episodes of the first season of the groundbreaking series. 
10. 'King of the Hill' (1997)
Courtesy Fox.
In 2003, Snoop gave pimping a shot. "'As a kid I dreamed of being a pimp, I dreamed of having cars and clothes and bitches to match. I said, "Fuck it -- I'm finna do it."'
His role as pimp Alabaster Jones must not have been a difficult one.
Alabaster Jones: "What you want for the jasper brunette?" 
Hank:  "That is my wife!" 
Alabaster Jones: "Man, that's the biggest mistake a pimp could make; marryin' one of his hos."