Can Latinos Save Seth MacFarlane's New Show?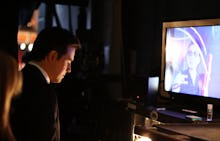 When I read that Seth MacFarlane of Family Guy fame will be creating a show called Bordertown about two families living in a fictional town on the U.S.-Mexico border, I cringed.
I mean, what can't go wrong when a white man known for using vulgar and sexist humor decides to create a show revolving around the misadventures of a border patrol agent and a Mexican immigrant?
Seth MacFarlane's comedic repertoire spans from crude to offensive. While I've loved Family Guy and American Dad for many years, there have been just many times when I've questioned his sense of humor. Does anyone remember the "You Have AIDS" song-and-dance sequence?
After reading that Lalo Alcaraz, a Mexican-American cartoonist, will be one of four Latino writers out of a group of approximately a dozen writers on the show, I breathed a small sigh of relief. 
Alcaraz is not new to satire and crass humor. After all, he is best known for his political comic strip, "La Cucaracha," which centers around Latino issues. I am confident he will create material for Bordertown which will be crass and shocking without being sexist or stereotypical.
As a Latina and an immigrant, I believe that immigration issues should be at the forefront of the media. I think that using satire to speak on such a divisive topic is a great way to make it digestible for the public. Whether or not I always like Seth MacFarlane, the medium he uses can be very effective if creators like Alcaraz can actually speak for us. 
However, Alcaraz is only one of four Latino writers on a show that has equal potential to be offensive and demeaning.
Bordertown will not debut until 2014, so I will save my judgment until I have seen at least one episode. My only hope is that with time the show can be overwhelmingly Latino, so its creators can call out humor that crosses the line and tell our stories honestly and realistically.
I have watched every single show about Latinos that has aired on TV trying to find stories and characters that speak to me. What I've found is that the ones that are capturing our lives are generally created by Latinos. For instance, Ugly Betty, created by Fernando Gaitán and Silvio Horta, was highly successful at representing Latinos characters with depthwithout harping on stereotypes.The people making executive decisions about Ugly Betty were Latinos like Salma Hayek and Jose Tamez. In contrast, who has much to say about the short-lived show Cane, created by Cynthia Cidre, about a wealthy Cuban-American family in South Florida? Yeah, I didn't think anyone else remembered it either.
That's not a surprise! Our stories are best told by us.
I want to see more than just a few Latino writers in Bordertown. I want to see Latinos as the creators and decision makers of any show that speaks to our experiences. Our lives are integral to the fabric of America; we should be just as central in the world of television.