Young Adult Fiction Needs to Cool It On the Hormones and Angst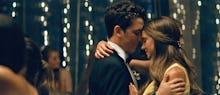 Author John Green recently completed production on the movie The Fault in Our Stars (TFIOS), based on his novel of the same name. The film stars Shailene Woodley and Ansel Elgort, with appearances by Laura Dern, Willem Dafoe, and Mike Birbiglia. Twentieth Century Fox has set the release date for June 2014, and it is expecting the same sort of critical success as films like 500 Days of Summer and The Spectacular Now. The book itself performed extremely well. It has remained on the New York Times' Bestsellers list for 50 weeks and counting, and it was recently listed as the third-best young adult novel this year by the New York Times Book Review. 
The story in TFIOS is sweet, yet heart-wrenching. Hazel, a teenager with stage-four thyroid cancer, meets Augustus, a boy whose bout of osteosarcoma is now in remission. Naturally, they fall in love in suburban Indiana (Green hails from the Hoosier State). The story's tone deftly shifts from adorable, to humorous, to unbelievably sad — often in just one chapter. Jodi Picoult correctly blurbed the book as "electric, filled with staccato bursts of humor and tragedy." Literary critics point to Green's style as the reason for success, and the way he portrays Hazel and Augustus as two intelligent and daring teenagers who are forced to deal with a heavy burden. The characters' sincerity draws the reader in, and drives to the emotional conclusion. Their shared fate as cancer patients leads them to ask philosophical questions about the true meaning of life, happiness, and breakfast food.
Yet Green stands out amongst his young adult contemporaries. There's a certain sorrow about the state of young adult fiction today, in both literature and film. Authors write about characters who act irrationally and appear to be thin representatives of human beings. Sometimes, they are only caricatures of teenagers who misrepresent everything adolescence is all about. They fall in love easily, disobey rules, and act with total disregard for reason. One oft-used example is Bella Swan, the protagonist of the Twilight franchise.
In the books, author Stephenie Meyer brings forth gratuitous amounts of teen angst and despair that attracted even a mature audience. However, Bella often appears clingy, self-absorbed, and incapable of taking care of herself or avoiding danger in the books. Unfortunately, the success of the series has spawned a new genre labeled "teen paranormal romance," which is home to a lot of dead-ringers for Bella. These stories usually involve a girl falling hopelessly in love with a supernatural version of an Abercrombie model. At some point, we can't suspend our disbelief anymore. 
Most (but not all) of the young adult writers today aren't paying enough attention to their audience.
The truth is young adults are an impressionable group. They are at a stage where the films they watch and the books they read penetrate their psyche and affect the way they think. Gone are the days of A Series of Unfortunate Events, where writers presented intelligent teenage characters with an ability to think just as well as their adult counterparts. Most (but not all) of the young adult writers today aren't paying enough attention to their audience, and are steadily forcing a negative image on the group. It is negligent at best, and downright irresponsible at its worst.
John Green's work should be an example to all young adult writers that we can admit that teenagers are often just as clever, strong, and smart as their adult counterparts. Teens across the country should put down the Werewolf Slayer or Alien Princess (these books are not yet real) and pick up more believable books that present clever young minds. If you enjoyed TFIOS, I suggest you check out Green's other books Looking for Alaska, An Abundance of Katherines, and Paper Towns for more stories of teenage awesomeness.