'The Hunger Games' Costumes: The Bold, High-Fashion Look Of 'Catching Fire'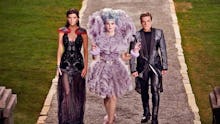 Panem isn't the only country that's awaiting Katniss Everdeen's wedding dress with bated breath. It is, by far, the most anticipated costume from Catching Fire, the second installment of the Hunger Games movie trilogy. Having not read the books (guilty), my interest in seeing the dress is less of a visceral urge to approve or reject the design based on some fantasy idea of how it should look, and more of a desire to indulge in Catching Fire's new couture costume direction while celebrating the fashionable coming-out of Jennifer Lawrence.
Costume designer Trish Summerville put a new, high-fashion visual stamp on Catching Fire, in theaters on Nov. 22. Working with director Francis Lawrence, the pair decided the fashions should be richer and darker than the first movie's in order to reflect the sequel's overall mood — perfect for the woman who masterminded Lisbeth Salander's now iconic, leather-clad look in The Girl With The Dragon Tattoo.
"Futuristic," "bold," and "colorful" are some of the adjectives Summerville has used to describe the costumes. Still, it's hard to boil down the entire film's look to just a few words. Summerville created 50 to 60 inspiration boards for Catching Fire, one for every district and every character in Panem. Each board is swathed in fabric, metals, art, and images of insects or nature.
We can expect to see the most obvious and decadent couture fashions in Panem's Capitol — a city with an insatiable appetite for luxury and consumerism. In Summerville's own words, she fashioned the Capitol after Japan's unique aesthetic of multiple fashion sub-genres: a sort of "high fashion UN."
For example, Katniss's wedding dress was designed by Jakartan designer Tex Saverio. Its flame-inspired silver corset, multiple layers of organza, and fabric peacock feathers blooming from the waist reportedly gave Lawrence as much trouble walking as did her tumble-inducing 2013 Oscar dress.
Summerville placed our favorite Capitol escort, Effie Trinket (Elizabeth Banks), in hard-to-walk and hard-to-breath designs. Summerville noted that she wanted Effie's costumes to reflect the discomfort she might feel while selecting kids for the reaping. For example, Effie's Elizabethan-inspired lavender concoction or Alexander McQueen butterfly dress were all just a little too high, too tight, and, of course, too fierce.
Still, Jennifer Lawrence will undoubtedly be the most watched leading lady in Catching Fire, both in the Capitol and right here in the real world. Since winning her Oscar earlier this year, Lawrence has butterflied into a fashion force in her own right. The current face of Miss Dior stunned the red carpet in couture Dior for the Catching Fire world premiere in London on Nov. 11. She looked more grown up and less "girly" than on previous red carpets, in a gown that's as subtly sexy as is her charming flightiness.
Both Lawrence and her character Katniss display a level of authenticity that leaves no doubt as to the type of woman each is. Summerville made sure to carry Katniss's leather hunting jacket and boots from the first movie into Catching Fire, because they are both so indicative of the character's strength and courage. But, of course, she topped it off with a gorgeous grey knit collared scarf for added 'oomph.' And if anyone can make high-fashion hunting knits look good in the Capitol, it's the girl on fire herself, Jennifer Lawrence.