3 Real-Life Young Feminists More Badass Than Miley Cyrus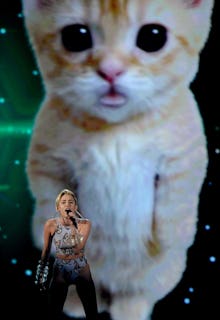 In recent Miley Cyrus news, days before she went onstage in front of a giant cat, everyone's favorite controversial pop star admitted to BBC Newsbeat that she feels she is "one of the biggest feminists in the world."
Miley's not alone. It's pretty common for artists to feel like they are making a difference for women in the world, and they might be. It is very empowering to have the freedom and ability to dance, sing, and create music videos without having to wear restrictive clothing.
Unfortunately for the rest of us, Miley probably wasn't thinking about how easy it is for her as a white, cisgendered and able-bodied individual who seems to have no issues with body image to "tell women to not be scared of anything." What Miley doesn't get is that feminism means being intentional in the intersectionality of race, class, gender, sexuality, ableism, etc. Referring to her back-up dancers at the VMAs as her "homies" when she was clearly using them as props doesn't count as intersectional feminism to me, because feminism includes, empowers, and values women of color.
Leaving aside former Disney stars, there are folks out there who are not only self-proclaimed feminists, but are actually doing intersectionality well. Don't let Miley Cyrus distract you from the feminist badasses that inspire me and millions of others.
Here are three women who inspire me to be self-reflective, intentional, and a proud feminist. 
1. Lena Khader
Lena Khader is a young feminist living and struggling to make progressive change in Oklahoma City. She is a Young People For (YP4) alumni, which is how I met her. Lena was working on her blueprint to save the world, one conversation at a time. She is the founder and facilitator of Making HERstory, a "safe space for young women and allies in South side [Oklahoma City] to discuss feminism, social issues, and how their rich histories and personal narratives can be used as a form of empowerment to become socially and politically conscious beings of society." Some of the topics discussed in Lena's high school program is privilege and hierarchies, as well as how these issues have personally affected the students' lives.
Lena radically creates safe spaces for young women to explore a different narrative. As a woman of color, Lena is a phenomenal example of being intentional about liberation, intersectionality, and radical self-love. This is what she teaches me everyday. 
Want to know how to support Making HERstory? Send Lena a message.
2. Lilliana Patricia Saldaña
Lilliana Patricia Saldaña is a Chicana activist scholar and professor of Bicultural-Bilingual Studies at the University of Texas at San Antonio, where I received my BA and had the pleasure of taking her classes. As an assistant professor, community activist, feminista, and lifelong resident of San Antonio, her work is focused on the "life histories of Raza teachers and the ways in which they transform, negotiate and reproduce the culture of schooling in San Antonio, Texas."
As a student in her Mexican-American studies class, I learned the art of testimonio. History is not relegated to one person's voice or perception; rather it is a collage of different experiences and memories.
Lilliana taught me that I have a voice, and I need to use it. In spaces like academia, Lilliana has successfully created an inclusive and safe classroom where students can share our stories and heal from colonialism.
Lilliana is changing the world one conversation at a time. She is changing the world with her positivity, intentional teaching, and relationship building that has made me so proud to identify as a Chicana feminist. 
3. Celia Aguilar
"When the sky turns dark, Celia Aguilar likes to sit on her balcony. From there, she can see thousands of city lights that belong to El Paso's sister city, Ciudad Juárez," writes Nicole Chavez about my dear friend, Celia.
Celia is a Chicana writer, poet, activist and feminist living in El Paso, Texas. She received her bachelor of arts in Chicano Studies at the University of Texas at El Paso and has since been working with her community for social justice for the rights of workers, women, and migrants.
Celia has taught me so much about intersectionality, patience, empathy, and positivity. Feminism is aimed at establishing and defending social rights for women, but it doesn't come without a little bit of self-reflection. Celia has been a wonderful example for me to explore my own traumas to achieve healing and greater understanding of our whole selves.
As women of color, we are not victims. We are guerreras. We are resilient and strong. Sometimes, it means indulging in the sadness of life and coming out stronger than before.