3 Ways Tech Companies & Retailers Are Marketing for Black Friday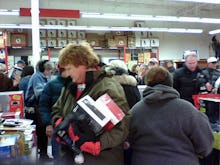 Black Friday follows Thanksgiving Thursday, and for most U.S. tech companies and retailers, it's the biggest shopping day of the year. As people enter their favorite stores in a frenzy and unleash their credit cards, tech companies and retailerscompanies are marketing themselves so shoppers leave the store with bags filled with their products. With that said, here are eightthree ways tech companies and retailers are marketingstores are preparing for Black Friday.
1. Releasing (and Being Included in) Holiday Gift Guides
While Black Friday ads (see below) inform theprovide consumers about what's on sale,with providing a brief descriptions of the product in question and a pricewhat's on sale, holiday gift guides offer a more in-depth look at the array of products available on the market.
Not only do guides like the CNet Holiday Gift Guide deliver informative reviews from industry experts, but they're usually available before any Black Friday ads leak, making them convenient for consumers who want to conduct thorough research before placing a specific product on their wish list. This means that gift guides are not only valuable marketing tools for the companies whothat create them, but that they also benefit the manufacturers and retailers whoseof the featured devices are featured in them. 
Tech companies and retailers also benefit from tThese guides are valuable to companies because of how organized and useful they are.;, Tthey categorize and analyzeing different technologiesy by their type and offering opinions about them. Although Black Friday ads are more upfront when it comes to marketing —,effectively lureing people to drive to specific stores to buy certain featured products, — , online holiday gift guides are more of aa modern-day seasonal shopping catalog.
2. Leaking Black Friday Ads & Deals
Enticing shoppers with Black Friday ads is the most traditional way companies and retailers join forces to market toattract consumers during this time of the year. These ads are usually filled with pages ofusually feature special sales and deep discounts on a variety of products, including technology. With tThe average consumer spendingspent about $423 on Black Friday in 2012, so there's money out thereremainsexists for tech companies and retailers to snatch up, – and they're using attractive ads to do it.
While retailers use Black Friday ads to attract consumers to their stores, tech companies take advantage by strategically releasing their products strategically before the ads are printed and released. As people anticipate these ads, the hype surrounding these products grows. No matter wWhether theit's excitement is about a new product hitting the market, or about an old one being drastically reduced in price, Black Friday ads that leak out create a stir among people and evenbuild greater anticipation, benefitting tech companies and retailers alike.   
3. Poaching Customers via Social Media
Although not as courteous or customary as advertisements and gift guides, poaching customers via social media is another tactic that marketers are adopting in the retail industry to, helping tech companies outsell their competitors. Twitter has become a platform for marketers, who represent retail brands, to exploit competitors' problems, like delivery deadline issues and product availability. Although it's not necessarily a merciful strategy, it attracts new customers, and it's been proven successful.
During Black Friday, people who have a Twitter account can expect retail giants like Walmart, Best Buy, and Target to trade jabs while trying to attract the most customers. One of the most popular ways to do this is to inform consumers that they're the only retail chain to carry a certain product, thatwhich might otherwise be sold out or unnot available at other stores. As a result the public becomes mindful of where these products are.
There's no turkey big enough to stop Americans from waking up bright and early on Friday morning to shop until they drop. As tech companies and retailers use these marketing tactics to attract consumers, people will have their wish lists and credit cards ready once the store doors open.