The Coolest Music Video You've Ever Seen Has Been 48 Years In the Making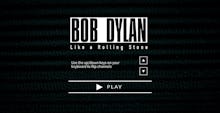 Bob Dylan recorded his song "Like a Rolling Stone" almost 50 years ago. Today, the song got a music video. To hype the release of Dylan's 47-disc box set entitled The Complete Album Collection Volume 1, bobdylan.com posted an interactive video that will make your head spin. The song might be half-a-century old, but this is the most creative music video I've seen this year.
Jean Claude Van Damme and Volvo can't be beaten as far as ads go this year, but Dylan's marketing tool definitely gives them a run for their money. The video features several familiar TV stations, all of which you can scroll through at your whim. Each one presents seemingly normal programming that has been synced to the lyrics of "Like a Rolling Stone." No matter how fast or slow you flip through the channels, everyone from Pawn Stars to The Price is Right has Dylan on the mind.
This delightful marriage of classic rock and emerging media is a brilliant display of the ingenuity it takes to reach millennials. With advertising and content distribution in such a transitional stage between TV and the web, the minds over at bobdylan.com really optimized their strategy to encompass the best of both worlds. Take a look for yourself and see how they did.