Are Asian Men Undateable?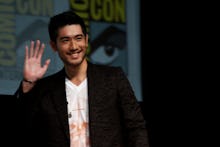 The online dating website "Are You Interested" recently surveyed more than 2.4 million interactions on its site and confirmed what many of us suspect: America loves Asian women.
In fact, Asian female users are more likely to get messages, including inappropriate ones, from male users of any race other than Asian. This trend, popularly dubbed "yellow fever," is not a new phenomenon, springing instead from an attraction to what some observers say is the exotic appeal of Asian women, and a self-indulging fantasy of being with women who are seen as docile and submissive. 
While Asian women seem to be in high demand, Asian men do not. Asian female and non-Asian male pairings are seen to be common, but Asian men are often left out of the discussion over interracial relationships entirely. As one of my black female friends put it, "Asian men, along with black women, are probably the least desirable people."
A 2007 study conducted by researchers at Columbia University, which surveyed a group of over 400 students who participated orchestrated "speed dating" sessions, showed that African-American and white women said "yes" 65% less often to the prospect of dating Asian men in comparison of men of their own race, while Hispanic women said yes 50% less frequently. Though Asian-Americans still date and marry each other, cultural stereotypes of Asian men may make them less attractive to women of all races, including Asians. 
Despite iconic masculine Asian role models like Bruce Lee, Asian men are often portrayed as scrawny males who spend more time studying than lifting weights in the gym, appearing in popular culture as soft-spoken, reserved types who rarely take part in activities that people qualify as "masculine" like professional football or construction work, as characters played for laughs.
These depictions run counter to what society tells us women want: someone confident, tall, dark and handsome.
"Women think we have a masculinity that's maligned and marginalized," said my friend Jubin Kwon, a Korean-American who grew up in the predominantly white town of Lexington, Mass. "There's also this idea of relative invisibility, but that applies to all Asian-Americans."
Given the constant stereotyping Asian-American men face in the media, Asian-American men approaching non-Asian women often either feel an unnecessary burden to prove themselves against Asian stereotypes or keep to themselves in fear of rejection. The agonizing paralysis of self-doubt is well captured by John Shim, who wrote a telling piece for The Daily Bruin in 2002, lamenting "I feel cheated out of a myriad of romantic experiences that could have been brought to fruition were I not an Asian male."
Growing up, I felt the same way. Part of me believed that I had no chance with non-Asian women because our cultural differences were too apparent. The other part was simply a lack of self-confidence. I rarely had the courage to express my feelings because I was too worried about the what-ifs.
What if non-Asian women simply had no interest in Asian men? What if they thought I was a nerd with poor social skills? What if they rejected me?
Over time, I forced myself to look past the stigmas that defined Asian males and worked to counter them. It paid off slowly but surely.
For some, the anxiety over being an Asian male that I once harbored can seem like an overreaction. "For me, there is no pressure [in asking a non-Asian woman out]," said my friend Anthony Ma, whose ex-girlfriend was Mexican. "But if you're from a very traditional Asian household, there might be some."
Even for those who share Ma's confidence, the sad truth is that the media continues to perpetuate the emasculated Asian male stereotype. To some, we are quiet or asexual. To others, we're less manly than our white, black and Hispanic counterparts. The consensus seems to be that Asian men have nothing going for them. "While growing up in a homogeneous white town, it was a standard perception that Asian men just weren't attractive," Sarah Shaw acknowledged in a post for Mapping Words earlier this year.
Whether this line of thought will change depends on the media's openness to promote more traditionally or differentially masculine Asian figures, and the willingness of Asian men to tackle existing media stereotypes of us head-on. As long as characters like Short Round continue to exist, Asian males will always have to confront issues regarding their masculinity.