This Train Would Get You From NYC to D.C. in 1 Hour — But America Will Never Build It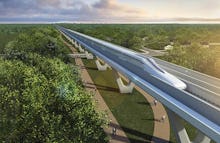 The news: Japan is ardently encouraging the United States to build a high-speed, ultra-futuristic maglev train line along the Northeast Corridor. In fact, Japanese Prime Minister Shinzo Abe is so devoted to the project that he's offered to comp the first 40 miles of such a line, which could stretch between D.C. and Baltimore. Were it to be built, the blisteringly fast maglev would permit commuters to travel between New York City and the nation's capital in under an hour, far quicker than a three-hour Acela ride and even swifter than the hour-and-15-minute flight between the cities.
On Saturday, Japanese Prime Minister Shinzo Abe hosted a bevy of retired American politicians who are advising The Northeast Maglev, a D.C.-based company that thinks it can finally get high-speed rail project off the ground in the United States. Former Senate Majority Speaker Tom Daschle, former Governors George Pataki and Ed Rendell, and former Transportation Secretary Mary Peters were treated to a 315 mph trip on a demonstration stretch of Central Japan Railway Company's (J.R. Tokai) maglev line. 
Here's what a test run of the shockingly fast train looks like:
Pretty freaking cool, right? The future.
The background: Japan, unlike the United States, has long been a world leader in high-speed rail. It began developing its Shinkansen network of bullet trains in the mid-1950s, and currently operates some of the fastest lines in the world. J.R. Tokai is currently constructing a high-speed maglev track between Tokyo and Osaka, which will become the second maglev line in Japan. (Linimo, a lower-speed "urban maglev" operates in Aichi Prefecture, and is one of the three fully-operational maglev lines in the world that's open to the public.)
Abe is hoping to mitigate the $100 billion cost of the Tokyo-Osaka line by creating an industry to export the technology behind it, adding to his reputation for economic prowess, and distracting from his disquieting nationalism.
Why we can't have nice things: High-speed rail is among the safest and most reliable forms of transportation, and its arrival would be a welcome relief for the congested Northeast Corridor, where highways, railways, and airline routes are all routinely overwhelmed by travelers. Unfortunately, given the United State's botched implementation of the modest Acela system and underfunding of Amtrak in general, Vice President Smokin' Joe Biden might not be able to kick back and crack a 9% a.b.v. India Pale Ale on a maglev train any time soon. Americans have been reluctant to shell out for plain ol' tracks-and-wheels high-speed trains, let alone a futuristic floating foreign-born behemoth that would require its own right-of-way through a crowded landscape — and, by proxy, countless eminent domain debacles.
The problem isn't that Japan is living in the future, but that between bureaucratic friction and over-reliance on the automobile, the United States is living in the past.
On the bright side, the president of Amtrak's board of Directors, the improbably named Joe Boardman, has a pretty sweet mustache.