A Street Artist Weepz For 5Pointz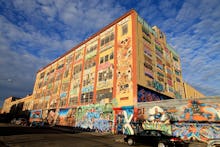 On this dark day, the 19th of November in the year of our Lorde, 2013, we lay to rest the 12-year-old wonder of the art world, the royal love child of graffiti and street art and all things painterly, 5Pointz. Rest in Paint.
World famous New York graffiti mecca, global artistic pilgrimage site, and inspiration to aspiring graffiti and street artists, 5Pointz, has literally been whitewashed. The planners and builders and money-makers of New York, property owners with a capital axe to grind, have coordinated and conspired (ok, maybe conspire is too serious a word) to cash in on the rising property values of Brooklyn. They're building a luxury housing complex on the site. I wonder who will have the sheer crass vicissitude to pay the first deposit on the new high rise.
Courtesy Brownstoner.
I had hoped my premature obituary was without merit, that New Yorkers would keep safe this keepsake of time, art, culture, and space.
But, 'twas not to be an effective or successful defense.
Courtesy Street Art Belgium FB Page.
I wrote in my last dispatch that "New York, and indeed the world, has an opportunity to push back against the murder of our writers' walls. Marie Flageul, a spokeswoman for the artist-run 'Aerosol art Center,' said of the possible closing, 'I hope New Yorkers wake up for once and take arms now instead of mourn later.'" It would appear the time for mourning is here. One of my graffiti protégé's and friends, AnseOner, had this to say: "Fuck. Oh well. That's the world. Underhanded and business minded. Gen Y vs Gen X."
I count myself among those affected by the erasure of these walls. I thought of Leonard Susskind when I heard the news. He said, "every time a bit of information is erased, we know it doesn't disappear. It goes out into the environment. It may be horribly scrambled and confused, but it never really gets lost. It's just converted into a different form." We are still here, in the alleys and empty buildings, in the basements and on the rooftops. 
Courtesy Molotow.
And now we face the future less one street museum. Where will we congregate next to illuminate walls like medieval manuscripts and richly textured comic books? Perhaps the French have a clue for us. Recently, the largest street art exhibit in the world temporarily opened in an abandoned nine story apartment building in Paris. It was called La Tour Paris 13. See more pictures of it here.
Courtesy Streetlove.
Why can this help us? Maybe it's a reminder. Everything we paint on — every building we paint in — is fleeting. Graffiti is impermanent. Graffiti changes. It moves on and leaves us, only to show up on another corner, in another unusual, unsuspected place, and that is what makes it so cool. That's where the beauty is. Have your high rise luxury buildings. We'll be sad, yes. But we will absolutely keep creating. I'm only wondering who's going to be the first one to catch a tag on it.
From here to eternity, with all spray paint brand cans bowed in observance of this passing, with a memorial spray on the local [legal] wall, we say farewell. Make the next world beautiful for when the rest of us arrive.