Trans Women Can Be Lesbians, Too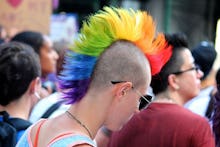 Editor's note: This piece is part of PolicyMic's series in honor of Transgender Day of Remembrance 2013, addressing issues of trans visibility and the media.  
Seeing trans women on TV and in other media — Laverne Cox on I Want to Work for Diddy, Isis King on America's Next Top Model, and Leiomy Maldonado from America's Best Dance Crew's Vogue Evolution — helped me come out. Seeing people all across the nation embrace my trans sisters gave me the confidence I needed for myself. But one thing I noticed about these women, and all the other trans women I saw in the media, was that unlike me, they were straight.
Where are the trans people like me? I wondered. We all know that sexual orientation and gender are not the same thing, so why does the media so often treat trans women as if we can only be straight?
According to polls, twice as many millennials identify as LGBT as any other age group, so there must be some other lesbian trans women my age out there. When I was coming out myself, I didn't see them anywhere. Most (if not all) of my trans sisters who had caught the public's eye were straight. A lot of straight trans women don't identify with the term queer, and they definitely don't identify as lesbians. When trans women were (and are) depicted as having had relationships with women, it always seemed to be a pre-transition plot point, usually so that they (and the audience) could be shocked when it's revealed that they have a child.
However, the reality for many of us is that we continue to be in relationships with women after we transition. That's because we're not only trans; we're also bisexual, lesbian or other versions of queer. In what is perhaps the most comprehensive survey of trans people ever done, researches asked the almost 3,000 trans women who responded what they identified with in terms of sexuality. Fully two-thirds identified as lesbian, bisexual or queer.
So often trans women are excluded from all groups that aren't exclusively for us, including many feminist, LGBT and women's spaces. Since so many trans women are feminists, so many are lesbians, so many identify as queer, and since all trans women are, well, women, we deserve to have a seat at those tables.
It's not just important that trans women like me let our voices be heard in spaces where we clearly belong — these spaces must openly embrace us.
That's one of the reasons why I jumped at the chance to write for Autostraddle. Autostraddle describes itself as "a progressively feminist online community for a new generation of kickass lesbian, bisexual & otherwise inclined ladies (and their friends)." They aren't trapped in the divisive and slow-moving past. Instead, they're part of a new generation of queer and feminist communities which embrace intersectionality and diversity.
When I came out, I was able to find plenty of trans women who quickly embraced me, but I also was looking for a community of my fellow lesbians and queer women to address those parts of my identity. That used to be easier said than done, but things are improving. When I see the articles that I (and the other great trans* writers) contribute to Autostraddle, I see the voices and faces that I was looking for when I was first coming out.
Trans women are an extremely diverse group; we should be seen and embraced in our full diversity, in trans communities, in feminism, in the queer women's movement. To do anything else is to stay stuck in the past.