To Perform Jihad In English, Press 1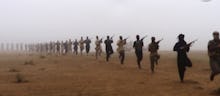 On July 21, 2012, the emir of Al-Qaeda in Iraq, Abu Bakr al-Baghdadi, made an online announcement about the start of a new campaign, which he named "Breaking the Walls." The purpose of the campaign was to prove to the world that not only was Al-Qaeda still alive, but that it was as formidable, connected, coordinated, talented, and as capable as ever. The campaign has proven to be an enormous success.
Since the campaign started, hundreds of Al-Qaeda militants have broken out of jail in coordinated raids, massacres of Shiites in Iraq have increased, and the organization has been making more and more connections while building its base, all thanks to the Internet.
You can't radicalize most people, but you can easily cast a large enough net to drudge up a few bad fish every now and again. Of course, there has to be anger, susceptibility to persuasion, a mechanism to cultivate the first two ingredients, and lastly, the official recruitment by the group who will wage jihad.
Al-Qaeda is constantly evolving in its media campaign to win sympathizers and recruits, and doesn't have to try very hard to do it. Sites like YouTube make it easy to upload gruesome videos of their attacks, like this particularly heinous one that includes footage of coordinated attacks on Iraqi policemen and soldiers, including up-close and personal executions. Videos are Al-Qaeda's number one indoctrination strategy, and they inspire many followers by glorifying their training, fighting, and ultimate martyrdom. (Somalian affiliate group Al-Shabab has been similarly successful, even in Minnesota.)
Twitter and Facebook provide Al-Qaeda consumers with updated news on attacks, even on those in progress, as Al-Shabab recently did during their assault on Westgate shopping mall in Nairobi.
Online forums and chat rooms provide places for young men to come together and discuss jihad, politics, tactics, and other related subjects. Shumukh al-Islam, Al-Qaeda's official online forum, has offered guidance to members of the Al-Nusra Front in Syria, provided ways for Al-Qaeda in Iraq to coordinate with them, and started its own Twitter account just two months ago. Al-Fajr media, Al-Qaeda's main distribution center for rhetoric, coordinates many messages through video, social media, and other methods. 
And to communicate more personally, Al-Qaeda members and recruits have used simple email services to conspire. While this may sound easy to track, it is not nearly that simple: Members share the passwords to many different email accounts, sign in from internet cafes, and write draft emails to one another that never actually get sent anywhere — no electronic signature of a sent email equals no drone strikes. While this method is now well-known, it is nevertheless incredibly difficult to track.
Perhaps most alarming to Westerners is Al-Qaeda's ability to commit cyber attacks and espionage. The Tunisian Cyber Army and the Al-Qaeda Electronic Army recently hacked U.S. State Department and Department of Defense affiliated websites, causing them to shut down while pulling valuable information from their servers.
Al-Qaeda is evolving in its use of social media, and is becoming bolder as it learns evasion tactics. A recent attack on two of its major websites has pushed the group further into the world of social media sites like Twitter and Facebook, which are hard to track and offer free accounts that are easy to set up. They keep Western intelligence agencies playing a shell game to determine which accounts are real, and also make it hard to nail down any specific account and find its origin.
If one thing is clear, it's that the inevitable withdrawal of U.S. soldiers from Iraq and Afghanistan, the reluctance of the West to involve itself in the Syrian civil war, and the continued drone wars across the Middle East and Africa have created an energy that Al-Qaeda has fed off of with great success.
But for all the blunders of the West, all the ingenuity of Al-Qaeda's leadership, and all the AK-47s and rocket-propelled grenades in the world, there is one thing above all else that makes the group so effective, powerful, and everlasting:
Patience.