Qatar's Vagina Stadium Distracts from Heinous Human Rights Abuses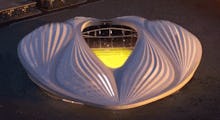 After the small, gas-rich country of Qatar won the bid to host the 2022 World Cup, the nation's leaders set out to build a 40,000-capacity stadium that would leave international spectators in awe. While the stadium itself has yet to be constructed, the building's design alone has already succeeded in capturing the attention of international onlookers.  While some sports fans may be impressed and inspired by the future stadium's cooled pitch and real grass, most agree that the building's most noteworthy characteristic is that it resembles a massive vagina.
Since the design's release, media pundits and web-based wonks have penned a plethora of clever commentary detailing the suggestiveness of the future stadium's gaping hole, and the sleek luminosity of its labia-like attachments. However, amid the foray of opinions regarding whether a vagina-shaped sports arena should be celebrated or ridiculed, commentators have forgotten the most significant fact about the building's construction: Qatar's migrant workers, who will build the now-infamous stadium, are treated like animals and forced to work gruelling hours in dangerous conditions.
According to Amnesty International's report, "The Dark Side of Migration: Spotlight on Qatar's Construction Sector ahead of the World Cup," 94% of workers in Qatar are foreigners, with many seeking employment in the country's booming construction sector. Unfortunately, the working conditions for these foreign employees resemble those of many exploited laborers around the world. Most of them are either paid less than they were originally promised, or not paid at all. They are often housed in overcrowded facilities without running water, sewage systems, or even electricity, and employers in Qatar's construction sector are known for withholding paychecks for months, or confiscating workers' passports to make sure they remain on the job despite the heinous circumstances. As a result, some workers have sought refuge in their embassies or taken to begging in the streets.
Due to concern over the well-being of these workers who will erect the $120 billion, vaginally-shaped construction with their blood, sweat, and tears, Guardian journalist Pete Pattisson went to Doha to document the plight of just one group of workers in Qatar, the Nepalese. According to Pattisson's findings, one Nepalese worker dies everyday from heart failure, heart attacks, or work related injuries. And these employees are far from feeble old men with weak constitutions; their demise is induced by the abuse suffered at the hands of their employers, and the excessively long hours they are forced to work without adequate amounts of food, water, or rest to sustain them.
At least 4,000 foreign workers in Qatar will die while companies toil to ensure that the vagina stadium is completed in time for the World Cup. But despite the ample proof of abuse laid out by credible sources, the government of Qatar seems uninterested in holding the country's companies accountable, or changing its labour laws.
Salil Shetty, the secretary general of Amnesty International, wrote in a release, "It is simply inexcusable in one of the richest countries in the world, that so many migrant workers are being ruthlessly exploited, deprived of their pay and left struggling to survive."
The labor conditions existent in Qatar are characteristic of a system that values high-profile events and flashy infrastructure over human life. If conditions are to be improved leading up to the World Cup, a global boycott should be launched to force Qatar's officials to sit up and listen.