Take a Closer Look at the Medal of Freedom Recipients — They're Obama Donors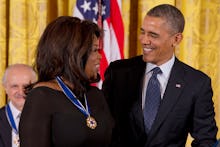 Wednesday, President Obama awarded the Presidential Medal of Freedom to 16 recipients from a broad array of fields including journalism, national security, public service, and entertainment. It marked the 50th anniversary of the ceremony, which began following an executive order signed by President John F. Kennedy, that established medal.
As a release from the White House describes the Presidential Medal of Freedom as the "nation's highest civilian honor," awarded to individuals who've "made especially meritorious contributions to the security or nation interests of the U.S., to world peace, or to cultural or other significant public or private endeavors." The 2013 recipients list includes politicians, cultural icons, a renowned athletic coach, a women's rights activist, an astronaut, and more.
But a deeper look at this year's recipients reveals a not-so-shocking reality: Numerous were top-dollar Obama donors.
Awarding favors to political supporters is hardly a new practice in the U.S., but bestowing one of the nation's historically most prestigious honors to a roll call of presidential donors may raise eyebrows.
Cultural icon Oprah Winfrey, who will receive the medal, gave the maximum amount allowed from an individual can donate to Obama's reelection efforts. She also donated tens of thousands of dollars to the Democratic National Convention during his campaign. Beyond personal monetary contributions, Winfrey also joined Obama at private fundraisers, which helped him in raise millions.
Similarly, 2013 Medal of Freedom recipient former President Bill Clinton not only stumped for Obama throughout 2012, but also assisted him in raising millions from top-tier democratic donors.
It's hardly news that Winfrey and Clinton were instrumental supporters of Obama's reelection. But what might surprise you is that several other recipients of this year's prize are also little-known Obama donors.
Typical.
Baseball legend Ernie Banks donated $111,600 to Obama's presidential campaign committee. Patricia Wald, a former appellate judge who is currently an Obama appointee on the Civil Liberties Oversight board, donated to both the Obama Victory Fund and Obama for America. 
Additionally, Israeli-American psychologist Daniel Kahneman, currently a Princeton professor, donated $5,000 to the Obama Victory Fund in 2012. And journalist Ben Bradlee donated to both Obama for America and the Obama Victory Fund.
Keep in mind, these are just personal donations that can be easily found through public Federal Election Commission filings. This may be just a small glimpse into the untold amount of money that was poured into Obama-affiliated Super PACs by the honorees.