Hey Ya! OutKast Is Back and Headlining Coachella 2014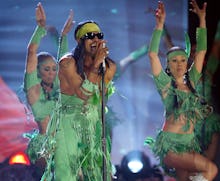 Atlanta hip-hop duo OutKast will likely be getting back together to headline the Coachella Music Festival next year. Big Boi and André 3000 have been on a six-year hiatus, but will reunite for the massive party in California in April of 2014.
Reunion rumors were all but confirmed Wednesday morning when OutKast collaborator Sleepy Brown  posted a photo that included the words "OutKast headlining Coachella 2014" on Instagram. The post has since been deleted.
According to Billboard, the pair is likely to use Coachella as a launch pad for a full tour through various festivals next year. But don't expect a new album just yet; Revolt TV has reported that OutKast is only working on live shows at the moment.
2014 also marks the 20th anniversary of Outkast's debut album Southernplayalisticadillacmuzik. The group's double album Speakerboxxx/The Love Below scored two No. 1 singles on the Billboard Hot 100 and took home the Album of the Year Grammy back in 2004. Big Boi and André 3000 parted ways in 2006 to focus on solo projects. 
Big Boi has released two solo albums in the years since, while André 3000 has focused on guest appearances on other songs and acting in films like Semi-Pro and the upcoming Jimi Hendrix biopic, All Is By My Side.
Coachella takes place over two weekends (April 11-13 and 18-20) in Indio, California. The full lineup and ticket availability will be announced early next year.