France Taunts Its Black Leaders, Then Claims Race Doesn't Exist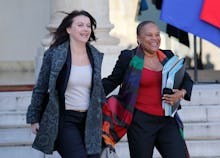 Last Wednesday, Christiane Taubira, one of France's most well-known black politicians, was pictured on the cover of a French conservative weekly Minute with the headline "Crafty as a Monkey." Though this phrase has positive connotations in French, it's been suggested that the publication was making a racist statement. The cover caused French Prime Minister Jean-Marc Ayrault to file a law suit against the publication, while the UN Human Rights Office called the cover "a stark manifestation of the rising racism … aimed at members of ethnic and religious minorities … in many European countries."
Unfortunately, this isn't the first time that French conservatives have issued racist taunts against Taubira. Her support of marriage equality legislation has earned her the ire of France's Right Wing. In October, Taubira was the target of racist taunts at an anti-gay marriage protest, where several children accompanying their parents shouted, "Monkey, eat your banana!" An extreme right-wing French mayoral candidate said that she would "rather see Taubira 'in a tree' than in government."
Such public insults against a senior member of France's government led Harry Roselmack, France's first black evening news anchor, to write an editorial in Le Monde earlier this month declaring that racism was in "the deepest parts of French society."
This controversy comes just six months after one house of the French Parliament voted to adopt a measure to remove the word "race" from the law books. The bill's opening paragraphs assert that "the word 'race' has no scientific validity and [that] it has been the basis for racist ideologies."
Does eliminating race as a legal construction also eliminate racism? Will it make France more equal?
The French government seems to think so, but I can't agree. Because my parents were global nomads, I know that America is just one of many places that I could have called home. I've often wondered what my hypothetical French self would be like, and if contemporary France would have made room for her hybrid identity as America has made room for mine.
Can you be both black and French in a country whose leaders claim race doesn't exist?
The host of a YouTube show Stereotypes filmed an episode in Paris on race and black identity which proves the answer to that question is less than straightforward.
Ryan Hall interviewed a young French woman who said, "In France we don't really label ourselves as, like, black or white; that's kind of considered racist." A young black French man said, "I know when I'm in France, a lot of people because of my skin color they think I'm like, you know [African]. But when I'm in Africa they treat me like a French guy, so I'm between the two." 
As a kid in Ivory Coast, a former French colony, my dad and his friends grew up hearing James Brown chant, "Say it loud, I'm black and I'm proud!" on the radio. He told me they didn't understand the words, but they sang along anyway.
The desire for freedom is the narrative that binds my father's story and my story together. 
My dad wanted to be a journalist but felt that the freedom of press in Ivory Coast was limited when he was coming of age. He chose to study business in Belgium, where he saw the civil liberties of African students like himself being violated for the smallest slights in the 1970s. It was common for local authorities to round up the town's black residents and bring them in for questioning whenever a black person was accused of a crime. After graduating, my dad went to Paris in the early 1980s, where increasingly restrictive immigration policies made getting a break in France difficult for an ambitious young African man like him.
But America, a place he knew of only through books, foreign newspapers and pop songs, was a country where he believed he could actually experience the liberté that France's national motto embodies. My dad found a degree of professional and economic freedom as a computer engineer that France couldn't offer. He married my mother in the late '80s and I was born shortly after in the southeastern United States.
I found the freedom to be myself, the liberating experience of not only saying, but being, black and proud.
As a black American, I've been socialized by my mother, my peers, and the men and women who taught me that my blackness was not a burden, but rather a blessing. My pride in my identity only offends those who understand it as pathological.
The thing that French legislators see as the seed of prejudice is a vital part of who I am.