18 States Cut Taxes in 2013 — Was Your State One Of Them?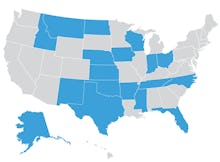 Death and taxes are, of course, the only two constants in life. But these 18 states are trying to make life a little easier for their residents — cutting billions of dollars in taxes for 2014 and into the future. 
The conservative American Legislative Exchange Council released the data this week in their State Tax Cut Roundup. According to ALEC, 18 states passed legislation in 2013 cutting taxes for 2014 and beyond.  
Of the 18 states, 14 are controlled by Republicans.
The types of tax cuts passed by state legislatures in 2013 vary. Among the most popular forms of tax relief were cuts to personal income tax, which accounted for nearly a quarter of the cuts across the 18 states, and cuts to corporate income taxes came to about an eighth.
Source: ALEC, State Tax Cut Roundup
"With the federal government locked in seemingly endless gridlock, it is up to the states to jumpstart their own economies," concludes the ALEC report.
Just how state economies will be impacted, however, depends on the types of cuts made, and by how much. The folks over at the Washington Post's GovBeat have put together a nifty list of the states that cut taxes in 2013, what exactly they cut, and the amount of estimated tax relief. GovBeat notes that the estimated relief could come anywhere from 1 to 5 years after the cuts, depending on the type of package passed by state legislatures. Here's the list, in order of size of tax cut package.
1. Iowa
Property tax, personal income tax
Relief: $4.4 billion
2. Kansas
Personal income tax, sales tax
Relief: $3.8 billion 
3. Ohio
Personal income tax, small business tax
Relief: $2.7 billion 
4. Indiana
Personal income tax, corporate income tax, inheritance tax
Relief: $1.1 billion 
5. North Dakota
Property Tax
Relief: $1.1 billion 
6. Texas
Margins tax
Relief: $1 billion
7. Alaska
Oil tax
Relief: $750 million
8. Wisconsin
Personal income tax
Relief: $650 million
9. North Carolina
Personal income tax, corporate income tax, inheritance tax, others
Relief: $500 million 
10. Oklahoma
Personal income tax
Relief: $237 million
11. Tennessee
Sales tax
Relief: $164 million 
12. Arkansas
Personal income tax
Relief: $160 million
13. Florida
Manufacturing sales and use tax 
Relief: $115 million 
14. Montana
Personal property tax
Relief: $100 million
15. New Mexico
Corporate income tax
Relief: $55 million
16. Idaho
Personal property tax
Relief: $20 million 
17. Nebraska
AMT, capital gains tax
Relief: $7.8 million
18. Mississippi
Energy sales tax
Relief: $6 million