Why Today's Politics Make For the Best Literature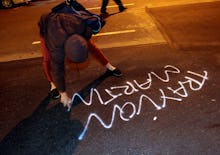 Literary fiction has a reputation among millennials as being neither urgent nor relevant. Looking for a spot-on representation of reality? Watch Girls. A searing discussion of today's social issues? Read the New York Times Op-ed page (or PolicyMic's Politics vertical). Literature is "boring" and apolitical, an "evocative meditation" that should sit quietly on a shelf waiting to be discovered. Two years ago, the novel was deemed culturally irrelevant — which is to say, it was declared dead to people who are active and engaged in the world like us.
But the last five years of National Book Award fiction winners and nominees prove the assumption that literary fiction is never activist terribly wrong. On the contrary, the tableau of recent NBA darlings shows that the premier contemporary fiction of America is not only culturally relevant, but also often politically charged and socially engaged.
Last night, James McBride's The Good Lord Bird won this year's National Book Award for fiction in a surprise upset. The novel is a rollicking, penetrating story about a cross-dressing runaway slave who raids Harper's Ferry with famous abolitionist John Brown. In the wake of events like Trayvon Martin's death (and Obama's remarks on the case) as well as the recent Stop-and-Frisk debate, McBride's novel, however literary, cannot be dismissed as irrelevant. Like 12 Years a Slave, The Butler, and Django Unchained, The Good Lord Bird joins a resurging national consideration of the dark years of slavery in American history — a cultural discussion heralded by the rising clamor of how young African American men fare in this country. It is a novel that engages with deep, pertinent questions of race being raised today.
In fact, the entire cast of this year's fiction NBA contenders was highly political. Rachel Kushner's The Flamethrowers captured the zeitgeist of the Occupy Wall Street movement in its treatment of New York City and Italian mass riots in the 70s. Jhumpa Lahiri's The Lowland featured the Naxalite communist resistance in India, a historical event echoed by discussions of privilege and class surrounding New York's most recent mayoral election. Thomas Pynchon's Bleeding Edge was ostensibly a 9/11 novel. And George Saunders' Tenth of December was rife with stories like The Semplica-Girl Diaries, an absurdist and semi-dystopic portrait of the effects of cheap exported labor and capitalistic imperialism.
The literary activism of NBA nominees isn't just a phenomenon of this year's list. Last year's awardee, Louise Erdrich's Round House, was an indictment of the failure of the criminal justice system in Native American reservations. Two of 2012's short-listed books were also novels about the Iraq War (Ben Fountain's Billy Lynn's Long Halftime Walk and Kevin Powers' The Yellow Birds). 2011's award went to Jesmyn Ward for Salvage the Bones, a powerful account of the destructive ravishment of Hurricane Katrina on poor rural black communities in the South. And in 2009, Colum McCann took home the prize for Let the Great World Spin, "the first great 9/11 novel" and a book that not only evoked the bittersweet unification of New Yorkers amidst common tragedy but also illuminated the effect of war on families.
If the National Book Awards are any indication, the best literary fiction is often political — sometimes ostentatiously so. People who say that the activist motivations cannot result in good literature certainly have not heard Jesmyn Ward talk about how having her family denied shelter by a white family during Hurricane Katrina inspired her to write Salvage the Bones, or Colum McCann describe keeping his father-in-law's shoes that were "covered with the dust of the World Trade Center" in his house while writing Let the Great World Spin, or James McBride describe the importance of breaking stereotypes in the "conversation about slavery."
Literature need not hide from activism. McBride's win yesterday demonstrates that politically sore subjects have a definite place in literary fiction, especially when combined with originality, stunning language, and kick-ass storytelling. As one of the top literary prizes in the country, the National Book Award shows that contemporary literature does in fact engage with the issues that are most pressing to millennials — issues like race, class, and identity — and that literary fiction is more relevant today than ever.