6 Incredible Women Writers Who Served Time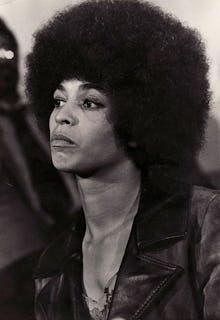 Writing, as we know, can be a scandalous art. Depending on the country and the culture in which it takes place, it can also be criminal. Numerous lists abound of famous authors who have gone to prison, and most can probably name a few pretty quickly — Miguel de Cervantes, Jean-Paul Sartre, Antonio Gramsci, Fyodor Dostoevsky, and Oscar Wilde, for instance, have all spent time behind bars.
However, though it's easy to think of many male authors who spent time in prison, female authors seldom come to mind. While lesser known than their male counterparts, many women writers were imprisoned for speaking up for their beliefs. Read on for a list of six women writers who have spent time in prison — considering their stories, you'll wonder why they aren't discussed more often. 
1. Emma Goldman
Meet the woman who attempted to murder a factory manager, allegedly influenced a president's assassination, and was a staunch advocate for women's and workers' rights. A Lithuanian immigrant who moved to the U.S. with her family in 1885, Emma Goldman (1869-1940) was one of the most well-known and outspoken anarchists of her time, and considered one of the most dangerous.
Her speeches on freedom of expression, workers' rights, and capitalist oppression regularly drew crowds of thousands and often landed her in trouble. She was sent to jail several times for "inciting to riot." In 1917, she was sentenced to two years in prison for urging men not to sign up for the draft, and was deported soon after her release. Though she fell into obscurity after her death, Goldman's fame was renewed by feminists and anarchist scholars in the 1970s. The popular saying "If I can't dance I don't want to be in your revolution," is attributed to Goldman, though it is, in fact, an abridgment of a longer passage in her biography.
2. Eugenia Ginzburg
Yevgenia (often Latinized to Eugenia) Ginzburg (1904-1977) was a Russian scholar and author who was imprisoned for 18 years during Stalin's Great Purge of 1934-1939. Ginzburg's harsh experiences during her incarceration (which included two years in solitary confinement) and subsequent exile became the material for Journey Into the Whirlwind, a memoir that intricately described the brutal conditions of the gulag, as well as the general paranoia of the time. The book had to be smuggled out of the USSR to be published. A biopic of her life, Within the Whirlwhind, was filmed in 2008, though it has not been picked up for distribution. 
3. Joan Henry
A former debutante whose family background included two British prime ministers and the philosopher Bertrand Russell, Joan Henry (1914-2000) served 12 months in prison for writing fraudulent checks. Her experiences prompted her to write Who Lie in Gaol, a semi-autobiographical novel that harshly criticized the substandard conditions of women's prisons. The book became a bestseller and was adapted into a 1954 film called The Weak and the Wicked. Henry would go on to write another book about prison, Yield to the Night, as well as numerous novels and screenplays. 
4. Nawal El Saadawi
A renowned Egyptian feminist, activist, and physician, Nawal El Saadawi was imprisoned by Egypt President Anwar al Sadat in 1981. Her ongoing criticism of female genital mutilation and its links to political, sexual, and economic oppression made her a controversial figure in Egypt, resulting in the loss of her position at the Egyptian Ministry of Health and the closing of feminist and health magazines she directed.
During her three months in prison, she wrote Memoirs from the Women's Prison on a roll of toilet paper using a smuggled eyebrow pencil. Though she was forced to flee Egypt in 1993 after receiving death threats from religious groups, this hasn't deterred her from continuing to criticize female circumcision — a process she had undergone herself as a child — and writing over 50 books of fiction and nonfiction. 
5. Angela Davis
Imagine if the director of your university's feminist studies department was someone who had been charged with first-degree murder and was on the FBI's Most Wanted List.
That would have been the case if you were studying at U.C. Santa Cruz in the 1990s, and Davis was your professor. A radical feminist and a leading member of the Communist Party USA, Davis was a prominent national figure and civil rights activist in the 1960s who often encountered heavy resistance to her political views. In 1969, she was dismissed from her teaching position at UCLA's philosophy department for her membership in the Communist Party, and for using "inflammatory language" in her lectures.
In 1971, Davis was issued an arrest warrant for purchasing the firearms that 17-year-old Jonathan Jackson later used to take control of a courtroom, leading to the deaths of four men, including a judge. She spent months in hiding before she was arrested. Davis spent close to a year in jail and was eventually exonerated at trial. She continues to be an influential activist and lecturer.
6. Piper Kerman
If you've watched the Netflix series, Orange Is the New Black, then you're already familiar with Piper Kerman, whose memoir is the basis for the show. Kerman graduated from Smith College in 1992, and was drawn by what she described as a "clique of impossibly stylish and cool lesbians in their mid-30s" to smuggle a suitcase of money to a West African drug lord in Belgium. She then got involved in drug laundering. She was charged with the crime years after her involvement, and spent 13 months at the Federal Correctional Institution in Danbury, CT in 2004. She published her memoir in 2006, and now serves as the vice-president of a communications firm.