Addicted to Nespresso? You've Helped Create a New Trend In American Culture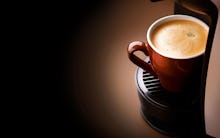 The news: The way Americans drink coffee is changing, thanks, in a large part, to young people's embrace of single-cup coffee machines like those manufactured by Keurig and Nespresso. MarketWatch reports that more than half of the coffee consumed by 18-to-34-year-olds is the result of coffee pods and capsules. That number shoots up to 64% for young people earning more than $75,000 a year, pointing toward the fact that high-earning millennials are both savvy, on-the-go overachievers, and exhausted hirelings who never leave the office to see the light of the sun.
The background: The withering gaze of your local barista is probably just a mask hiding his or her overwhelming fear of obsolescence. Capsule coffee machines have grown up with the millennial generation, and the devices are increasingly dominating the coffee market. Eric Favre first invented an "extraction cell in which all the flavors are concentrated" for Swiss corporate giant Nestlé in 1976, shortly before forming his own company, named Monodor. However, his product didn't take off until the 1990s, when Nespresso machines began to be marketed as sleek luxury items. In 1998, Keurig introduced its first single-cup brewer for offices, and quickly came to control the single-cup market in North America. Meanwhile, Nespresso established a chain of retail boutiques, became a fixture in high-end restaurants, and got George Clooney to star in its hilariously pretentious ads.
Deep and sensual! 
What's next: An increasing number of Americans aren't just drinking their pod coffees at work, but at home, despite a popular trend toward artisanal, hand-made goods, and the proliferation of Seattle-style coffee culture. That's likely to continue, as competition in the market increases (Keurig owner Green Mountain Coffee Roasters' patents expired last year, giving a boost to rival companies), and despite reports citing modest health concerns associated with capsule coffee. Millennials can look forward to decades of palpitations to come, and eventually, encountering children named Kazaar, Rosabaya, and Dharkan.