Watch This Harvard Student Pretend to Be a Yale Tour Guide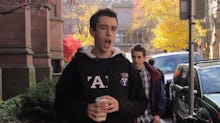 The long-running Harvard-Yale prank war continues. In anticipation of the 130th annual Harvard-Yale football game this Saturday, the student-run group On Harvard Time decided to don blue Yale apparel and head down to New Haven to give out "Free Yale Tours!"
The student "guide", Sam Clark, made sure to show tourists the highlights of Yale's campus, including the blue light safety phones ("where the most serious crime happens"), a pile of trash bags, and the signature Gothic architecture.
This isn't the first time that the comedic brains at On Harvard Time have messed with their Ivy League rival. Though many of the group's videos poke fun at Yale, OHT's parody of a certain High School Musical-style Yale admissions video stands out.
Then again, I might be just a tiny bit biased when it comes to Harvard-Yale relations. Oh yeah, and one more thing: Go Crimson!